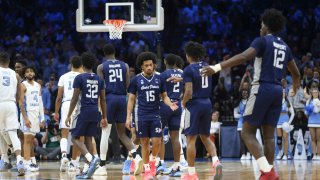 Take a bow, Saint Peter's.
The MAAC champions' remarkable March Madness run came to an end on Sunday with a 69-49 loss to North Carolina in the Elite Eight. Despite falling short of the Final Four, the Peacocks still took the basketball world by storm over the last two weeks.
The Peacocks first made headlines with a shocking first round win over No. 2 Kentucky to open the NCAA Tournament. The victory was just the 10th ever by a No. 15 seed over a No. 2 seed in the history of the men's tournament, but Saint Peter's was just getting started.
Shaheen Holloway's team picked up a second tournament win by beating No. 7 Murray State in the second round. It then made history with its Sweet 16 win over No. 3 Purdue, becoming the first team seeded No. 12 or lower to reach the Elite Eight.
No. 8 North Carolina put an end to Saint Peter's miraculous tournament journey, but before turning focus to a loaded Final Four, people took a moment to celebrate the Peacocks on Twitter:
Along with the outside support for the team, Saint Peter's thanked its fans following the defeat:
While Saint Peter's run is over, it won't soon be forgotten.