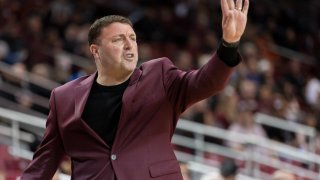 A timeline of events at New Mexico State, including the fatal shooting of a University of New Mexico student and a hazing allegation that led to the cancellation of the men's basketball season. Times are approximate.
OCT. 15, 2022
Brawl breaks out at Aggie Stadium in Las Cruces during the New Mexico-New Mexico State football game. Among those seen in video of the fight are New Mexico State basketball players Mike Peake and Marchelus Avery and a New Mexico student, Brandon Travis.
NOV. 18
New Mexico State arrives by bus in Albuquerque for a game against New Mexico the next day. Travis was in his dorm room with other students, including Mya Hill. Hill had been communicating with Peake and, according to her interview with police, was planning to meet Peake to have sex. Travis allegedly persuaded Hill to arrange to set up Peake so he and friends could attack him to avenge what happened at the football game.
NOV. 19
Assistant coaches conduct late-night room checks and all Aggies players are in their hoel rooms. An hour later, assistant coach Dominique Taylor sees Peake, Xavier Pinson and William Benjamin walk into the hotel. Shortly afterward, Peake orders a Lyft ride to the UNM campus.
3 a.m.: Peake is walking outside a dorm complex with Hill when three men approach the two from behind. Travis allegedly points a gun at Peake's face and another student hits Peake in the leg with a baseball bat. After falling, Peake gets up and starts to run. According to police, Travis fires a gun at Peake and Peake pulls a gun from his waist and fires back. Travis is hit four times. Peake is shot in the left leg. Peake hops away and a car pulls up at a different spot on campus. Peake meets with teammates Issa Muhammad, Anthony Roy and Avery, and places his gun and a e-tablet in the trunk. Police arrive, Peake is taken to a hospital. Travis dies at the scene.
10 a.m.: Coach Greg Heiar tells police he wants to check with the school's athletic department to see if his players need attorneys before speaking with the police. Multiple calls from investigators to Heiar's cellphone go to voicemail.
11:30 a.m: Police notice some NMSU players getting on a bus. Shortly after, New Mexico State tweets that the game against the Lobos has been canceled.
1:30 p.m.: The team bus pulls off Interstate 25 about halfway between Albuquerque and Las Cruces. Police show up minutes later and meet with NMSU assistant Lorenzo Jenkins, who turns over Peake's e-tablet.
3:45 p.m.: Police meet Taylor, the assistant coach, back at the team hotel in Albuquerque where Taylor has Peake's gun wrapped in a towel. Taylor tells police Muhammad, Avery and Roy told Heiar where the gun was, and Heiar called Taylor and told him to retrieve the gun in a hotel room.
5:40 p.m.: Police retrieve Peake's cellphone at home of NMSU administrator Ed Posaski in Las Cruces.
NOV. 22: New Mexico State cancels second game against UNM.
NOV. 25-26: Aggies play first games since shooting. Peake is out injured.
DEC. 5: New Mexico State suspends Peake indefinitely.
DEC. 6: University hires outside investigators to look into the shooting.
DEC. 28: NMSU regents decide not to renew contract of Chancellor Dan Arvizu.
FEB. 10, 2023
A New Mexico State player tells campus police he had been ganged up on by three teammates, that incidents had been occurring since summer and the latest happened Feb. 6 when he was held down, his clothing removed and his buttocks slapped along with the touching of his scrotum. The player says the incidents often happened in front of the entire team and no one intervened. School suspends men's basketball season.
FEB. 11: Arvizu says he has been notified of hazing allegations. Two players quit the team.
FEB. 12: Arvizu shuts down men's basketball program for the rest of the season.
FEB. 14: Arvizu fires Heiar, says administration still reviewing other personnel decisions.
FEB. 15: Arvizu says he supports veteran athletic director Mario Moccia, and says he was not aware of hazing incidents.
___
Sources: AP research, police reports and the Las Cruces Sun News
Copyright AP - Associated Press