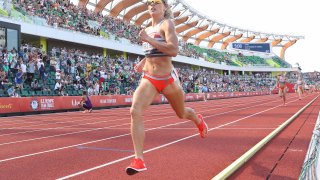 Simone Biles' highly anticipated return to the Tokyo Olympics stage -- and Olympic podium -- did not disappoint Tuesday. The GOAT of gymnastics won a bronze medal in the balance beam final after missing a full week of competition.
In an exclusive interview on TODAY focused on Team USA's performance in Tokyo, Biles added her voice to the discussion surrounding mental health in this Olympics.
"It means more than all the golds," Biles said of her bronze medal. "I pushed through so much over the last five years and the last week while I've been here. It was very emotional and I'm just proud of myself and all of these girls as well."
Spectators turned their heads Wednesday toward one of the biggest showdowns of the entire Tokyo Games, when American superstars Sydney McLaughlin and Dalilah Muhammad squared off in the women's 400-meter hurdles.
Plus, the U.S. women's basketball squad stands two victories away from a seventh straight gold medal, the women's golf tournament teed off and sailors with New England ties placed fourth in the final Olympic sailing event.
Here's how to watch:
US sailors with New England ties place fourth in final event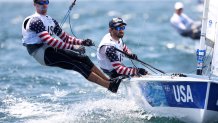 The Olympic sailing events concluded with the medal races in the men's and women's 470 classes, with two men with New England ties placing fourth. Great Britain took five medals, three gold, in the 10 sailing events. Australia took three, all gold.
David Hughes grew up in Miami before graduating from the University of Southern Maine. He and partner Stu McNay — who was born in Boston, grew up in Providence and attended Yale University — placed fourth in the men's 470 two-person dinghy in Rio 2016, an event in which the pair will also compete in the Tokyo Olympics. They matched that placement in Tokyo.
Australia's Mat Belcher and Will Ryan needed to do little more than make it safely around the course in the men's 470 medal race but went out and won it anyway for an emphatic finish. Sweden's Anton Dahlberg and Fredrik Bergstrom took second to clinch silver, and Spain's Jordi Xammar and Nicolas Javier Rodriguez did just enough to take bronze with a fifth-place finish. (FULL RESULTS)
Belcher earned his third medal in the event, taking gold in 2012 and silver in 2016. Ryan sailed with him in Rio.
Sydney McLaughlin shatters her own record in women's 400m hurdles, local runners compete next
Sydney McLaughlin roared back after the final set of barriers to capture 400m hurdles gold Wednesday in Tokyo, shaving nearly a half-second off her own world record from U.S. Trials in 51.46 and dethroning defending title-winner and teammate Dalilah Muhammad as Olympic champion.
Muhammad, also the reigning world gold medalist, hung on for silver in a personal-best 51.58, also well below McLaughlin's previous all-time best of 51.90.
Rising star Femke Bol of the Netherlands, who entered the race fourth-fastest in history, captured bronze in 52.03 to pass Russian Yulia Pechonkina for the No. 3 spot.
After finishing second to a pair of Muhammad's world record-breaking races at the 2019 U.S. Championships and World Championships, McLaughlin finally answered back at U.S. Olympic Trials in 2021 with one of her own in 51.90, becoming the first 400m hurdler to go sub-52.
She made her Olympic debut as a 17-year-old prodigy at the 2016 Rio Games, becoming the youngest U.S. track and field Olympian in 44 years, but had an early exit in the semis.
After finishing high school, the Dunellen, New Jersey, native attended the University of Kentucky before turning pro.
Track and field turns around and had another session beginning at 5:30 a.m. ET on Thursday. There were finals in the women's steeplechase, men's hammer throw, men's 800m and men's 200m. On top of that, there was action in the men's decathlon, women's heptathlon, women's 1500m and women's 400m.
Two of those women's events featured New England athletes. Elle Purrier St. Pierre, of Vermont, and Heather MacLean, of Peabody, Massachusetts, competed in the women's 1500m semifinal. Purrier St. Pierre moves onto the final, but MacLean will not.
Wadeline Jonathas, who graduated from Doherty High School in Worcester in 2016, also competed in the women's 400m semifinal, coming in fourth and missing the final slot.
Biles Wins Bronze on the Beam
Simone Biles made a dazzling return to the Olympic stage -- and Olympic podium -- finishing with a bronze medal in the balance beam final Tuesday.
USA women's basketball runs over Australia 79-55
For a team that has won six straight gold medals and more than 50 consecutive games, playing from behind is unfamiliar and unexpected territory.
Yet, after the first quarter in all three games during pool play, the mighty U.S. women's basketball team found itself in that very territory: trailing.
That changed on Wednesday as the U.S. jumped out to an early lead en route to a 79-55 rout of Australia in its quarterfinal matchup at the Tokyo Olympics. The fast start helped secure a spot in the Final Four as Team USA extended its winning streak to 53 games and put itself within two victories of a seventh straight gold medal.
Nelly Korda four-under par after women's golf tournament first round
The first round of the women's golf tournament is in the books and Sweden's Madelene Sagstrom is on top of the leaderboard by one stroke, while Team USA's Nelly Korda and India's Aditi Ashok are tied for second.
Korda entered the Olympic tournament as the world's top-ranked golfer and finished four under par and one stroke behind Sagstrom.
Aditi Ashok of India is also four-under-par heading into the second round
While the American squad got left off the podium during Olympic golf's return in 2016, the U.S. women are poised for a stronger showing in Tokyo.
The team boasts two-time Olympian Lexi Thompson, Danielle Kang, Nelly Korda and her sister Jessica.
If any member of Team USA is able to medal, they'll have to go through tried competitors. All three medalists from Rio have returned, with South Korea's Inbee Park looking to defend her gold. This year's winners of the four majors played thus far will also be participating: Thailand's Patty Tavatanakit, the Philippines' Yuka Saso and Australia's Minjee Lee. Nelly Korda won the KPMG Women's PGA Championship.
Viewers can stream Round 2 of the tournament on Aug. 4 at 6:30 p.m. ET. Click here for more information on scheduling.
US Women's Volleyball advances to semifinals with win over Dominican Republic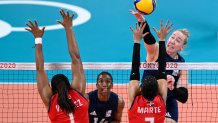 Despite being without setter Jordyn Poulter and opposite hitter Jordan Thompson, the United States women's volleyball team handled the Domincan Republic with relative ease, winning 3-0 in the quarterfinal matchup.
The U.S. team now will play in the semifinals, where they can punch their ticket to the gold medal game. It's the United States' fourth straight Olympic semifinal appearance.