The Olympic return of the GOAT in U.S. women's gymnastics turned out to be a triumphant one.
On Day 11 of the Tokyo Olympics, Simone Biles made her Olympic return this morning with a bronze medal the balance beam final.
Also, both the United States men's basketball and women's water polo teams won their quarterfinal matchups to advance to their semifinals. Scroll down for the latest updates:

Simone Biles wins bronze in Olympic return at balance beam finals
Simone Biles made a dazzling return to the Olympic stage -- and Olympic podium -- on Tuesday.
The GOAT of gymnastics won a bronze medal in the balance beam final after missing a full week of competition in Tokyo.
On her routine, Biles scored a 14.000 -- 7.900 execution and 6.100 difficulty -- just behind China's duo of Guan Chenchen (14.633) and Tang Xijing (14.233).
Jayson Tatum, US men's basketball team defeat Spain, advance to semifinals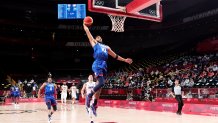 The U.S. men's basketball team (2-1) took on one of their stiffest tests of the Tokyo Olympics, facing Spain (2-1) in the men's basketball quarterfinal.
Team USA passed that test by defeating the Ricky Rubio-led squad 95-81 to advance to the semifinals.
The U.S. men had a tough time stopping Rubio initially in the first quarter. The Cleveland Cavaliers guard dropped 13 points in the quarter to help keep Spain in the game.
But Brooklyn Nets forward Kevin Durant took over in the second quarter and scored 12 by the half to tie the game.
The U.S. came out with a different mentality in the second half. Durant dropped 10 points in the third to put the U.S. up by six points heading into the fourth. But Spain still finished the third quarter on an 11-2 run.
In the fourth, the U.S. took control and extended their lead to 14 points by the end of the game. Durant led the U.S. in scoring with 29 points, followed by Jayson Tatum, who scored 14 points and Damian Lillard, who had 13 points.
The USA will now face the winner of Australia-Argentina. Australia (3-0) defeated the U.S. in an exhibition game on July 12. Patty Mills leads the Aussies at 21.7 points per game, while 41-year-old Luis Scola is scoring 19.7 per game for Argentina (1-2).
Sports climbing will make Olympic debut
Sports climbing made its Olympic debut 4:00 a.m. ET on Tuesday.
There are three disciplines in Olympic sports climbing: Bouldering, Speed, and Lead. Each participant must compete in all three, and a winner is determined by multiplying a competitor's placement in the various disciplines.
The lowest score wins gold. Because each competitor must compete in all three disciplines, each climber must have a combination of speed, flexibility, and endurance if they wish to reach the podium.
Team USA's hopes of for gold in sport climbing's Olympic debut rest on the shoulders of Nathaniel Coleman and Kyra Condie. Coleman won three consecutive USA Climbing Bouldering OPen National Championships (2016-2018).
Condie is making an Olympic debut that was once thought impossible. Early into her climbing career it was discovered that she had idiopathic scoliosis and would require surgery. After being told she would never climb again, Condie now has a chance to be an Olympic medalist.
Watch on USA Network at 10:30 a.m ET, or stream live at 4 a.m. here.
Records broken as track and field events continue
On Day 11 of the Tokyo Olympics, the men's 400m hurdles was one for the ages, with Karsten Warholm and Rai Benjamin finishing 1-2 with the two fastest times in history.
Benjamin, of Team USA, won silver in the record-breaking men's 400m hurdles, posting a time of 46.17, which also exceeded the previous world record.
Warholm, of Norway, won gold — obliterating his own world record — with a time of 45.94, followed by Alison dos Santos of Brazil who claimed bronze with a time of 46.72.
American Brittney Reese won silver in the women's long jump in her fourth and final Olympic Games. She posted a jump of 6.97 with her third attempt. She won silver in Rio, and gold in 2012 in London.
Germany's Malaika Mihambo won gold with a final jump of 7.00m.
Ese Brume of Nigeria claimed bronze with a jump of 6.97m with her first attempt.
American Tara Davis finished in 6th place with a jump of 6.84m.
All three members of Team USA -- Erriyon Knighton, Kenneth Bednarek and Noah Lyles -- advanced in men's 200m.
Knighton cruised across the finish line in his Olympic debut, posting a time of 20.55 in Heat 4.
The semifinals will take place on Tuesday at 7:50 a.m. ET, followed by the final on Wednesday at 8:55 a.m. ET. Stream available here.
Women's water polo cruises to semifinals with win over Canada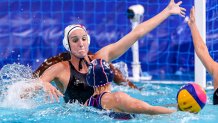 The United States women's water polo team grabbed an early lead against Canada in the quarterfinal match and never looked back, trouncing the Canadians 16-5 to move on to the semifinals.
Maggie Steffens led the way with threegoals. Steffens broke the Olympic all-time scoring record in the final preliminary match and continued that momentum into the quarterfinals.
Makenzie Fischer and Alys Williams also had three goals, while Maddie Musselman and Aria Fischer each added two. Goalkeeper Ashleigh Johnson was fantastic in net, saving 14 of 17 shots before Amanda Longan took over late in the game, making three saves on five shots.
The United States advances to the semifinals, where it will face the winner of the Australia-ROC quarterfinal. That match is set for Thursday, Aug. 5 at 6:50 a.m. ET. That match can be streamed here.