Day Four of the Tokyo Olympic games did not go as expected -- reigning Olympic gymnastics champion Simone Biles withdrew from the gymnastics team final minutes after struggling to land a vault.
Team USA took silver in the women's team event after Biles pulled out of the competition, missing gold for the first time since 2008.
Now, Biles will not compete in the women's individual all-around final on Thursday, USA Gymnastics announced.
"After further medical evaluation, Simone Biles has withdrawn from the final individual all-around competition. We wholeheartedly support Simone's decision and applaud her bravery in prioritizing her well-being. Her courage shows, yet again, why she is a role model for so many," USA Gymnastics said in a statement on Wednesday.
Here's what else is going on:
U.S. advances to women's 3×3 basketball gold medal game after win over France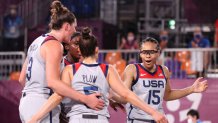 The U.S. women's 3x3 basketball team is one victory away from a gold medal. The team defeated France 18-16 on Wednesday, advancing to the sport's first gold medal game.
Team USA never trailed in the game, taking a 15-12 lead when Kelsey Plum eluded her defender with a hesitation dribble drive and converted the layup with 2:17 remaining. France came back to tie it at 16 with 1:07 remaining on a layup by Laetitia Guapo.
The gold medal game is scheduled for Wednesday at 8:55 a.m. ET. To watch, click here for a livestream, or tune into NBC or NBC-affiliated channels, including NBCSN, the Olympic Channel and Peacock.
U.S. men's basketball team routs Iran; Kevin Durant on brink of history
The Dream Team is back!
Well, let's not jump to conclusions based on one game, but the U.S. men's basketball team's 120-66 win over Iran on Wednesday felt like a throwback performance by a team and country accustomed to global domination and lopsided Olympic victories.
It came on the heels of the team's stunning opening loss to France on Sunday, the United States' first since 2004.
This contest also nearly served as a pivotal moment in Kevin Durant's Olympic career. At tip-off, Durant was just 15 points shy of the U.S. men's basketball all-time Olympic scoring record (336 points), set by Carmelo Anthony in 2016. However, Durant finished the game with only 10 points, falling just shy of the Olympic milestone.
Durant's next chance to surpass Carmelo's Olympic scoring record will come Saturday morning at 8 a.m. ET when the U.S. men take on the Czech Republic.
Katie Ledecky wins gold in 1500 as U.S. swimmers earn 4 more medals
The U.S. swim team picked up four medals for a second straight night on Tuesday, headlined by Katie Ledecky's win in the women's 1500m freestyle.
Erica Sullivan secured a silver medal in the same final, while Alex Walsh and Kate Douglass finished second and third respectively in the women's 200m individual medley.
Ledecky made history as the first-ever women's 1500m freestyle Olympic gold medal winner, finishing in 15:37.34. She now has six career Olympic golds.
Sullivan posted a time of 15:41.41 to give Team USA the top two finishers in the 1500m freestyle. Germany's Sarah Köhler (15:42.91) earned the bronze.
Team USA took home the silver and bronze medals in the women's 200m individual medley, with Walsh coming in second and Douglass finishing third. The Americans finished behind gold medal winner Yui Ohashi from Japan.
Meet Local Olympic Athletes
After missing quarterfinals, Mass. sabre fencers compete in team event
Massachusetts natives Eli Dershwitz and Andrew Mackiewicz missed another chance to win an Olympic medal.
As the second-ranked sabre fencer in the world, Eli Dershwitz was a medal favorite in the lead up to Tokyo. The 25-year-old from Sherborn, Massachusetts, breezed through the round of 32 with a 15-9 win over Japanese fencer Kaito Streets but failed to advance beyond the round of 16 after running into Kim Jung-Hwan (KOR).
Kim, who has a team sabre gold from 2012 and individual bronze from 2016, downed Dershwitz 15-9, eliminating the American before the quarterfinals.
Dershwitz was the only member of Team USA in the Round of 16 after Andrew Mackiewicz, of Westwood, Massachusetts, fell to top-ranked Oh Sanguk (KOR) 15-7 and Daryl Homer lost 15-11 to Mohamed Amer of Egypt.
Dershwitz made his first Olympic appearance in Rio but was eliminated in the opening round of competition. He, as well as Mackiewicz and Homer, took another shot at winning a medal in the men's team sabre event, but fell to Hungary in the quarterfinals.
The full schedule for streaming coverage of Olympic fencing can be found here.
Two Mass. native rowers miss podium
After some Olympic rowing competitions were rescheduled due to Tropical Storm Nepartak, two Massachusetts natives competed in the Women's Double Sculls Final Tuesday.
Gevvie Stone, a Newton native who won the silver medal in single sculls in Rio, and Kristi Wagner, of Weston, teamed up for double sculls several months ago without having ever rowed together before.
The duo turned in a time of 6:55.65 in a second-place finish for their preliminary heat, advancing to the semi-finals. They came up short Tuesday, placing fifth with a time of 6:52.98.
The pair are coached by Stone's father, Gregg, who has been coaching his daughter since 2008.
Find full TV listings for rowing and all other Olympic sports in the full TV schedule.