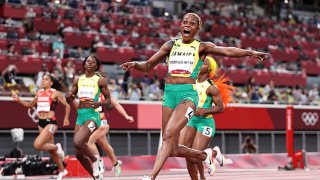 Jamaica's Elaine Thompson-Herah cemented her legacy as one of the greatest sprinters of all-time Saturday morning.
Thompson-Herah, crossed the finish line in 10.61 seconds, breaking Florence Griffith Joyner's 33-year-old Olympic record in the process.
Thompson-Herah now holds the second-fastest time ever in the women's 100m.
Shelly-Ann Fraser-Pryce holds the third-fastest time after she ran a 10.63-second time in June. Fraser-Pryce took home the silver medal with a 10.74-second time and Shericka Jackson took the bronze with a personal best time of 10.76 seconds giving the Jamaicans a clean sweep of the podium.
American Sha' Carri Richardson was considered to be the main threat for Fraser Pryce and Thompson-Herah in the 100m race but was left off the U.S. Olympic team roster after a positive test for THC.
Thompson-Herah and Fraser-Pryce will compete for Jamaica in the women's 4x100m relay.