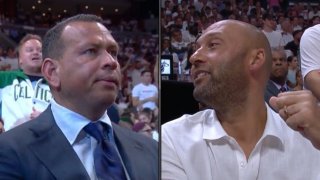 Twitter jokes A-Rod, Jeter's presence cursed Heat in Game 4 loss originally appeared on NBC Sports Boston
The Celtics may have found the recipe for a miraculous series comeback against the Heat -- and it doesn't involve basketball.
During Boston's 116-99 Game 4 win in Miami on Tuesday, two MLB icons were spotted sitting courtside -- Alex Rodriguez and Derek Jeter.
With the Celtics' win keeping the series alive as it heads back to Boston for Game 5 on Thursday, Twitter quickly pointed out the importance of the aforementioned stars' presence. Both Rodriguez and Jeter were part of the 2004 New York Yankees squad that lost a 3-0 lead to the Boston Red Sox in the ALCS.
The Yankees became -- and still are -- the only MLB team to lose a seven-game series after possessing such an advantage in the league's history, but no team in the NBA has pulled off the feat.
Could this all happen for Boston against Miami? Well, fans of the Celtics and NBA surely had their say:
Tip-off for Game 5 on Thursday in Boston is at 8:30 p.m. ET.
Copyright RSN