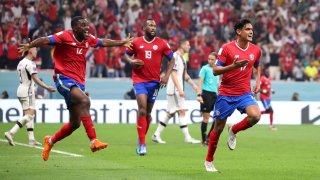 Germany is in danger.
After missing the knockout stage at the 2018 FIFA World Cup, the Germans are staring at a similar fate in Qatar.
Needing a win against Costa Rica and a Japan loss to Spain, neither result is going Germany's way. They struck first and took a 1-0 lead into halftime, but things unraveled early in the second half.
Costa Rica's Yeltsin Tejeda scored off a rebound in the 58th minute to tie the game at one, while Japan scored two early goals in the second half to take a 2-1 lead over Spain.
Moments later in the 70th minute, Costa Rica's Juan Vargas gave them a 2-1 lead.
Germany quickly evened the game again in the 72nd minute off a goal by Kai Havertz.
The 2014 World Cup winners are now at risk of missing the knockout stage, barring a late goal against Costa Rica and a Japan collapse.