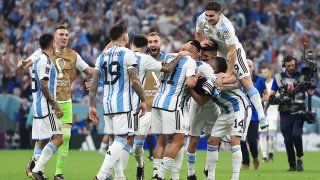 Messi and Co. are off to the Finals.
The Albicelestes defeated Luka Modric and Croatia 3-0 in the 2022 FIFA World Cup semifinals on Tuesday at the Lusail Stadium in Qatar.
Argentina took the early lead and closed out the first half 2-0.
It all started with Lionel Messi, who converted on a penalty after Julián Álvarez drew a foul and was taken out by Croatian goalkeeper Dominik Livaković. Messi proceeded to complete the PK against Livaković in the 34th minute.
This was followed up by back to back goals from Álvarez in the 39th and 69th minute, respectively, to seal the game.
Now, Argentina will make its sixth World Cup Finals appearance and fans immediately took to social media to sure to join in the celebration after the win.
Croatian midfielder Luka Modric also received love from fans on Twitter after leaving the pitch in what may be his last World Cup appearance of his career.
Argentina will face off against the winner of the Morocco-France semifinals clash that will kick off on Wednesday at 2 p.m. ET.