The Shib sibs retake the ice in the second part of the ice dance competition. Maddie Bowman looks to repeat her gold medal performance from Sochi in the women's freestyle skiing halfpipe. The men's U.S. hockey team opens the elimination round against Slovakia.
Here's what you need to see in the next 24 hours in Pyeongchang:
Hubbell and Donohue, Shib Sibs Hope to Topple Canadian Ice Dance Favorites
Canada's Tessa Virtue and Scott Moir hope to regain their 2010 Olympic ice dance title when they skate in the free dance on Tuesday (Monday night in the United States), the second part of the ice dance competition.
Virtue and Moir, who helped Canada win a gold medal in Pyeongchang in the team event, were in first place after the short program, with 83.67. Their main rivals, France's Gabriella Papadakis and Guillaume Cizeron, were in second — despite Papadakis suffering a wardrobe malfunction during their routine, and struggling to keep her top from falling down throughout the routine.
The United States is represented by three top teams. Madison Hubbell and Zachary Donohue were in third place after the short program, just .02 points head of brother-sister duo Maia and Alex Shibutani (aka the Shib Sibs). Madison Chock and Evan Bates, who finished eighth in the Sochi Games and then won their first national title together in 2015, were in seventh place.
How to Watch: Watch live on NBC's primetime coverage beginning at 8 p.m. ET Monday or on digital platforms right here.
Alexander Gamelin's Olympic Journey From Boston to Korea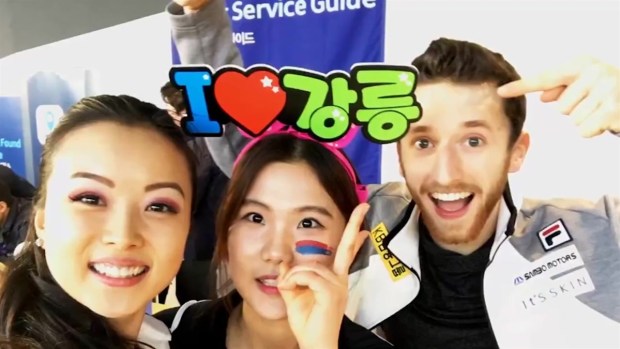 Boston Native Skating for South Korean Olympic Team
When Alex Gamelin dreamed of the Olympics as a boy, the Massachusetts native pictured himself skating for Team USA. Now, Gamelin is competing in ice dance at the Winter Games in Pyeonchang, alongside his partner Yura Min.
But instead of skating under the American flag, he's representing the host country, South Korea.
Gamelin and Min made a noteworthy impression in their first performance on the Olympic stage on Feb. 11, when a hook on the back of Min's red dress slid loose, threatening to reveal rather more than it already did.
"I know that if this comes undone, then the whole thing is going to come undone. So I had that panic," she said. "That wouldn't be the most ideal Olympic experience, obviously," Min said.
Things got worse during the twizzles – a synchronized side-by-side spin – when Min felt the dress slipping off her shoulder and down her arm.
"It started to come down so I had to stop my twizzle and pull it back up," she said. Gamelin added: "We were skating well – you just had to keep everything, well, intact."
Gamelin is one of several foreign athletes to become a naturalized South Korean citizen in the run-up to the Winter Games. Min, born in California to Korean parents, is a dual citizen and has skated internationally for the country since 2013.
For the full story on Gamelin's journey from Boston to Pyeongchang, click here.
How to Watch: Gamelin and Min will skate in ice dance as part of NBC's primetime coverage starting at 8 p.m. ET Monday or on digital platforms right here.
USA Hockey's Jordan Greenway Remains 'Confident' Heading into Slovakia Game
If the U.S. men's hockey team is going to pull off a miracle, their magic run must start on Tuesday. The Americans face Slovakia in the first round of the elimination tournament.

Despite the men's hockey team struggling into the qualification round, Boston University junior Jordan Greenway remains confident in his team's ability.
"Going forward I think we can do a lot of damage," he said. "We just need to stick to our game plan, use our speed, get pucks to the net and chances will come."
Greenway, the first African-American to play hockey for Team USA, says the team does not need to make any dramatic changes.
You can watch NBC10 Boston reporter Brian Shactman's entire interview with Greenway here.
How to Watch: Watch the men's hockey team play Slovakia live at 10 p.m. ET Monday on NBCSN or on digital platforms right here.
U.S.'s Maddie Bowman Defends Halfpipe Gold
Defending U.S. Olympic champion Maddie Bowman is looking to repeat her Sochi result in the women's freestyle skiing halfpipe. She heads a strong contingent of American contenders, which includes Brita Sigourney, the first women to land a 1080 in a competition halfpipe, and Annalisa Drew, who finished fourth in qualifying. Sigourney finished third in qualifying, Drew finished fourth and Bowman finished sixth.
American Devin Logan, a silver medal winner in Sochi for slopestyle, finished 15th in the qualifying run and failed to advance to the final.
Tough competition is expected from Canada's Cassie Sharpe, known for her bold tricks, and France's Marie Martinod, a silver medal winner in Sochi.
How to Watch: Watch live on NBC's primetime coverage beginning at 8 p.m. ET Monday or on digital platforms right here.
Team USA Fights for Medal Round Spot vs. South Korea in Women's Curling
If the United States is going to have a shot at a medal in curling, its women's team needs to finish strong. With two games left against two of the top teams, they're fighting for the last spot in the medal round.
That fight begins against South Korea on Tuesday.
The top four teams in round-robin standings advance to the medal round. Entering the final stretch of round-robin play, the U.S. is tied for fourth place.
The Americans are on a run. They've won three of their last four matches to improve to a 4-3 record, including wins over Denmark and China on Monday.
Wins in their final two matches would guarantee life after round robin play. Even winning one of two could allow them to sneak forward. But they're facing two of the top teams - South Korea is in first place at 5-1, and Sweden is tied for second at 5-2.
How to Watch: Watch live beginning at 12:05 a.m. ET Tuesday morning on digital platforms right here.