The eighth day of competition at the 2018 Winter Games brings some of the heaviest hitters in the Olympics' biggest sports, from Mikaela Shiffrin's skiing event to the explosive rivalry between the American and Canadian women's hockey teams.
The top events to watch run the gamut from graceful pairs figure skating, where a married couple is representing the U.S., to extreme snowboard cross, a set of high-flying group races that will feature a squad of Norwegians known as the "Attacking Vikings."
And it's a big day for downhill skiing, as medals will be awarded in women's giant slalom — Shiffrin's a favorite — and men's downhill.
Shiffrin Set to Make Pyeongchang Debut at Giant Slalom
Will Mikaela Shiffrin make her long-awaited Pyeongchang debut Wednesday? Her first two would-be debuts were postponed by dangerous winds.
Shiffrin was a breakout star at the Sochi Olympics, where the American became the youngest-ever Olympic slalom champion at age 18. Now 22, Shiffrin committed to skiing both the giant slalom and the slalom in Pyeongchang, and she might add the other three individual women's races to her schedule.
Lindsey Vonn, another star American skier, will not compete in the giant slalom.
Watch Shiffrin go for gold, with coverage beginning live on NBC and on digital platforms at 8 p.m. ET Wednesday right here.
U.S. Men's Hockey Team Loses 3-2 Despite BU Junior's Goal
The U.S. men's hockey team couldn't hold onto a 2-0 lead, falling 3-2 to Slovenia. in its opening game of these Olympics.
The loss is a blow to American hopes of progressing to the quarterfinals, but the team is still higher in the standings than the pre-tournament favorites. The highly touted Olympic Athletes from Russia lost 3-2 in regulation time to Slovakia.
These Olympics are being played without active NHL players, so the American roster is full of veterans playing in international leagues.
Both players who scored goals for the U.S. have New England ties. Jordan Greenway is a junior at Boston University and Brian O'Neill attended Yale University.
Women's Hockey Grudge Match, a Gold Medal Preview
Of the five women's hockey finals in Olympic history, four were played between the U.S. and Canada, building what may be the biggest international rivalry in the sport, women or men.
There will be no love lost between the teams at this next meeting — members of Team USA have talked about how they will be fired up to avenge a heartbreaking loss at the last Winter Games. The U.S. was winning 2-0 with four minutes to go in the championship game, but Canada rallied and won in overtime to clinch a fourth straight gold medal.
Both the U.S. and Canada have guaranteed they're through to the semifinals of the 2018 Games by beating Finland and the Olympic Athletes from Russia, so this match is mainly about pride. It's also very likely a preview of the gold medal game, since both teams will be heavily favored in the semifinals.
The women's hockey team includes many with New England ties, including Danvers, Massachusetts native Meghan Duggan; Cayla Barnes, who attended New Hampton School in New Hampshire and played hockey at Boston College; Megan Keller, who also played at Boston College; Kali Flanagan, who grew up in Burlington, Massachusetts, and played hockey at Boston College; Hillary Knight, who attended high school at Choate Rosemary Hall in Wallingford, Connecticut and plays professional hockey with the Boston Pride; and Kacey Bellamy of Westfield, Massachusetts, who attended the University of New Hampshire and also plays for the Boston Pride.
Watch live on NBCSN, with coverage beginning at 10:10 p.m. ET Wednesday, or on digital platforms right here.
Jonathan Cheever's Love Story in the Snow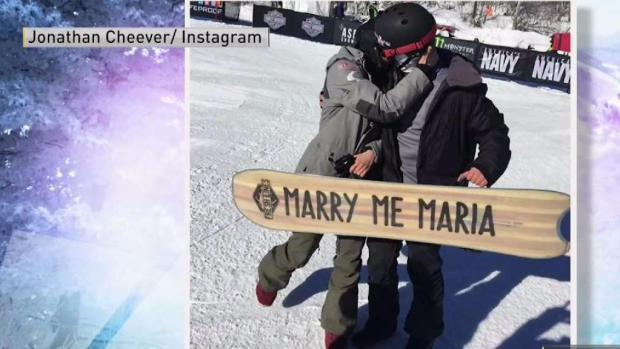 Saugus Snowboarder Jonathan Cheever's Valentine's Day Love Story
Saugus, Massachusetts native Jonathan Cheever is competing in his first Olympics in PyeongChang. It's something his wife, Maria Ramberger, definitely understands.
Ramberger represented Austria at the 2010 and 2014 Winter Olympics before announcing her retirement from snowboarding in 2016.

Cheever proposed during the 2016 Winter X Games, using a specially made snowboard.
The couple said "I do" in Cheever's parents' kitchen on Aug. 20.
Cheever was in a pair of sweatpants, and Ramberger was in her pajamas.
"We had mimosas and coffee cake," Cheever's mom Doreen recalls. "She cut the coffee cake and, because it was breakfast! It was 8:20 in the morning. They got married on 8/20. I was determined they were going to get married on 8/20."
Men's snowboard qualifying begins on Wednesday at 11:30 p.m. ET. Watch it live right here.
The Knierims Advance in Pairs Figure Skating
After finishing 14th in the short program Tuesday night, married pairs figure skaters Alexa Scimeca Knierim and Chris Knierim will compete in the free skate Wednesday night. Medals in pairs' figure skating will be awarded after the free skate.
The Knierims skated to "Come What May" from "Moulin Rouge" Wednesday (Tuesday night in the U.S.). Several pairs chose covers of classic hits — North Korea earned 10th place with their performance to Jeff Beck's cover of Beatles classic "A Day in the Life."
Married in 2016, the Knierims were named the American figure skating team's sole pair for the 2018 Olympic Winter Games.
Watch live as part of NBC's primetime coverage, which begins at 8 p.m., or on digital platforms at 8:30 p.m. ET right here.