A multi-hazard winter storm that delivered a record (snowiest single day) 13.9 inches of snow to North Platte, Nebraska yesterday and heaviest snowstorm of the season so far in Denver, Colorado, with 9.2 inches of snow has continued to spread east and will impact our weather here at home through tomorrow.
With a lack of significant cold air in New England, this storm will have a tough time producing high snowfall totals in much of southern New England. There will be a sharp rain/snow line that makes this a high-stakes forecast though: a 25 to 30-mile difference in northern Massachusetts will separate snow amounts from half a foot to nothing at all early Friday morning!   
The first winter storm starts today and goes through Friday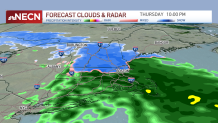 Rain, snow and sleet continues to fill in from southwest to northeast and will slowly transition to snow Thursday evening and overnight as far south as northern Massachusetts.  Near and south of the Mass. Pike, while a few snowflakes may mix in from time to time, precipitation is likely to be rain overnight into early Friday morning.  I do think there will be a brief lull early tomorrow morning before the next round of precipitation moves in as the upper level low moves overhead. So by mid to late morning, the rain/snow line will be collapsing into the city of Boston, then through the South Shore by midday, adding a fresh coating to a couple inches of snow. Snow showers should taper during the evening Friday before temperatures drop into the teens and 20s from north to south overnight resulting in slippery travel and icy patches on any untreated surfaces.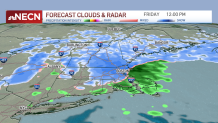 We're tracking another potential storm on Sunday
Aside from a flurry or two on Cape Cod Saturday, generally quiet weather will be found regionwide with high temperatures in the 30s and 20s north. At the same time, another storm will be organizing along the Louisiana Gulf Coast, ready to pull northeast. Confidence is growing that this storm will carry enough warmth that Southern New England will see mostly rain when the storm arrives Sunday evening through night, but Northern and perhaps central New England is likely to see accumulating snow. The worst impact of the storm will be overnight Sunday night, though the morning commute Monday very well may be impacted by rain and snow north and west of Boston depending upon storm track as the system starts its exit.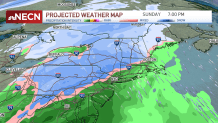 Winter hits again Wednesday
Our active pattern continues with another storm slated to arrive sometime Wednesday and perhaps linger into Thursday of next week. Right now, it looks like this storm could be a little colder at the onset, yielding a decent burst of accumulating snow farther into southern New England, with the highest totals focused across northern New England.  In fact, our exclusive guidance is keying in on up to 2 feet of snow in ski and snowmobile areas of Northern New England in the next 10 days!  Of course, we have are several days to go before we can pinpoint exact totals, but this very early estimate is welcome news for snow lovers and winter weather enthusiasts. We'll take it one storm at a time – so stay tuned for updates in the days to come.