Stop us if you've heard this one: Heavy rain blasts New England Sunday through Sunday night and departs, but the jet stream level energy driving the storm takes all week to move through, keeping showers in the forecast.
That was the weather story last week – and it's the weather story this week. This time, the energy aloft is an even bigger and stronger "upper level storm" than last week, so there are a few impacts: The rain and wind were stronger Sunday into Monday morning, and the showers this coming week will be more numerous and heavier than last week's.
Rain totals over the last 36 hours reached nearly five inches in parts of interior Maine, resulting in numerous reports of flash flooding including road closures and washouts overnight Sunday night into Monday morning, and many rivers across particularly northern New Hampshire and Maine will reach flood stage as runoff increases river levels, with moderate flooding on the Kennebec River by Monday night marking one of the more impactful river rises.
Meanwhile, the combination of rain, thunderstorms and wind delivered over 55,000 power outages to the state – the most by a long shot in New England Monday morning – and the impassable roads will ensure a slow process to restore that power for some. Interestingly, while the next several days will bring showers, Monday ends up being the nicest day of weather all week! Dry air has been dragged into the center of the surface storm as it crosses New England from south to north Monday, meaning rain races north and sunshine breaks through the clouds with a busy wind turning to blow from the southwest and gusts to 35 mph for many, 40 mph for some and 50 mph on Cape Cod Monday afternoon.
Though wind damage isn't likely for most, a few weakened limbs may come down for some new power outages, while the marine community sees the biggest impact with six to nine foot waves near-shore. The wind won't go quiet overnight Monday night but will subside considerably as the surface storm moves into Canada, but the upper level storm will continue to spin ever-closer to New England, sparking numerous showers Tuesday. Because of its slow speed, numerous showers are also expected Wednesday, Thursday and Friday! Of those days, there will be at least some limited breaks of sun, particularly the farther south and east one is on Wednesday and Friday, but Thursday's clouds and onshore flow may hold high temperatures in the 40s for most of New England for a chilly day.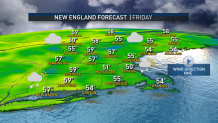 Once the upper level storm moves over New England Friday, the weather improves steadily, so the weekend looks brighter and milder, with a noticeable change especially on Sunday as temperatures rise well into the 60s for the start of what our First Alert Team anticipates will be a milder and much nicer week next week, in our exclusive First Alert Forecast.