A weak system is bringing some flurries Saturday afternoon and another one Sunday that might be restricted more into northern New England with a few trying to reach parts of Massachusetts, a mix is possible.
Highs Saturday afternoon remain in the 20s, but if feels much colder. We woke up to subzero wind chills and as the hours have progressed we now look into upper teens.
The wind switches out of the NW, which allows us to warm up a bit more Sunday with highs climbing into the 30s to near 40 in the warmest spots south.
Clouds also remain through Monday. As we hop into next week, we'll see a nearing low promising snow and the chance for rain in some areas. We've issued a First Alert for Tuesday due to the current trends keeping much of New England with possible plowable snowfall amounts but also rain by the afternoon for some in eastern and southeastern Mass.
Places like Connecticut and Rhode Island who haven't seen much snow this winter will likely receive accumulating amounts but the most will likely fall in central and western Mass. as well as southern Vermont.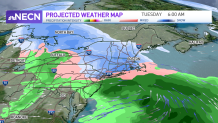 Regardless, roads will likely be dicey for most of New England for Tuesday's morning commute and more slushy surfaces east and southeast by the evening commute.
The system will likely exit late Tuesday and drier weather is featured for Wednesday. Highs this time are trending more seasonable for the second half of next week, for which Thursday's low is likely rain.
The next potential road nuisance would be next Friday's storm which may start as rain and end up as snow.