Beautiful spring weather Tuesday is much anticipated for so many New Englanders, with afternoon high temperatures reaching 55 to 60 degrees across most of the Southern half of New England, and near or over 50 degrees even in the North Country!
For some, snow is still melting, but it's melting fast – at the rate of 2 to 3 inches per day! This has taken previous 2 plus foot snowpack in spots and reduced it to around or even under a foot in the past few days, and it continues to shrink steadily. Although, there is some more accumulating snow on the horizon for some.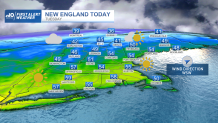 Before diving into weekend snow chances, though, we'll enjoy what we have – a large dome of high pressure, or fair weather, over the eastern United States maintains a fair sky, marred only by variable morning clouds from a jet stream level disturbance that quickly traverses New England from west to east Tuesday morning to midday, departing for lots of afternoon sun.
A steady westerly breeze won't have much impact on how the day feels, serving more as a pleasant spring breeze but also contributing to the drying that's been happening in the combination of dry air and sun. In fact, this combination has served to dry out last year's dead brush on the ground of southern New England, raising brush fire danger to high for southeastern Massachusetts, southern Rhode Island and far southern Connecticut, and moderate from Hartford to Boston.
Keep in mind, far and away the top causes of brush fires in New England are cigarettes tossed aside that roll into brush, and brush burning embers that float astray and start a new fire. Pollen count is on the rise, too, reaching moderate to high levels Tuesday and Wednesday in southern New England, but mostly focused on juniper and poplar, which isn't hitting the big tree pollen allergens many suffer from.
UV Index has increased to moderate with the sun angle but won't hit high to very high for a couple more weeks. Finally, the dry nature of the air can be a sneaky dehydrator for the body, so keeping water handy is encouraged for all ages. This dry air should deliver another rain-free day Wednesday even under increasing clouds, then a few showers enter the New England scene Wednesday night, with a few jet stream level disturbances overhead Thursday all touching off rounds of showers, and eventually dragging a surface cold front through New England Thursday evening with rain that will break for drier, slightly cooler air that likely shunts Friday showers south of New England but also makes their return Saturday a bit tricky.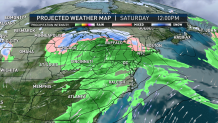 Right now, it appears we'll have enough cool air Saturday for returning rain to instead fall as snow from the Berkshires to near the northern Massachusetts border points north, with accumulating snow of three to six inches a possibility for the mountains and Lakes Region Saturday afternoon and night!
Local
In-depth news coverage of the Greater Boston Area.
The finer points will become clear as we get closer, but it's likely the rain/snow line will ride northward during Saturday evening and night, then the precipitation should cut out Sunday for most, making Sunday the better of the two weekend days.
Thereafter, the early call on next week in our exclusive First Alert 10-day forecast is to keep temperatures very close to normal for the final days of March with occasional showers later Monday into early Tuesday.