A wind chill watch is in effect for all of Massachusetts and New Hampshire ahead of what's likely to be the coldest wind chill temperatures in seven years this weekend.
For some areas in New Hampshire, these could actually be the coldest wind chills in several decades.
See the how the wind chill will fluctuate over the start of the weekend in the images below.
Actual air temperatures are likely below zero for the majority of the region early on Saturday morning. But that will coincide with wind gusts over 40 mph, and the combination will lead to wind chill values of -20 to -30 in and around the Greater Boston area.
For New Hampshire, the intensity of these wind chills will be even worse. Model guidance projects several spots in northern New Hampshire with wind chills of -50 degrees or colder.
For perspective, a wind chill of -30 can freeze exposed skin within 5 minutes' time, and wind chills of -50 can freeze skin in 2 minutes.
This will be a brief, but particularly dangerous situation.
The time period of dangerous cold starts midday on Friday, when an arctic front will clear the area in the morning.
Temperatures will fall quickly from the 20s into the teens. Winds will gust to over 40 mph, and wind chills will be below zero by noon.
By Friday night, it will be dangerous to be outdoors. At 7 p.m., wind chills will be around -25 in Worcester; -20 in Boston; -40 in Berlin, New Hampshire'; and -10 in Hyannis.
Overnight, conditions worsen. Early risers on Saturday can expect 5 a.m. wind chill readings of: -50 in Berlin, -33 in Boston and -34 in Worcester.
It is strongly recommended to stay indoors during Friday evening and Saturday morning.
By noon Saturday, wind chill readings will relax slightly, but will still be considered dangerous. Although still bitter cold, by 5 p.m. on Saturday afternoon, conditions will improve to the point where frostbite becomes less of a concern.
Finally, by Sunday, actual air temperatures will be above freezing.
It is important to be weather aware during this very brief, but brutal arctic outbreak this weekend.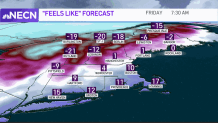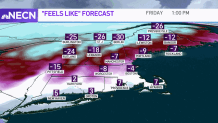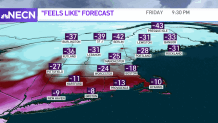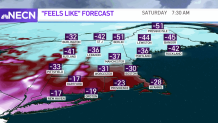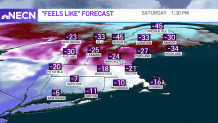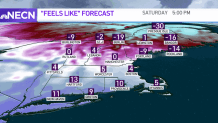 More on the cold weather in Boston