It sure feels nice to have the sun back. While temperatures this weekend won't be as warm as they were Thursday, a milder and longer trend returns next week to keep us under a the spell of the 60s and 70s.
I don't hear any complaints about this yet. April in New England typically starts with highs in the lower 50 and ends in the lower 60s. But having the chance of some 80s in between is giving it a stretch — while there is the potential to see some 80s by the second half of next week, they'll likely remain inland.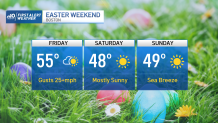 Meanwhile, temperatures Friday have reached the 50s, but with a strong west wind gusting over 25 mph along with low relative humidity, the risk of brush fire is enhanced and a Red Flag Warning will remain in effect through the evening. The dry weather will continue.
Focusing on the short term and our holiday weekend, temperatures will trend a couple degrees below average. Highs will range in the upper 40s and may possibly hit 50 in a few inland spots.
The sea breeze will keep the coastal communities on the cooler side Sunday but sunny skies are featured for us all. A high pressure system will influence our quiet and sunny conditions through early next week. The chance for a few sprinkles might push in on Tuesday as a shortwave sneaks through, but other than that, sunny skies take over Thursday and Friday, with a warmer round that might push our temperatures up to the 70s and may even hit the 80s for inland spots out west.