Another winter storm is moving through New England, but with many areas only receiving a third of the snowfall they normally see to this point in the season, can we make up for it?
Climatology tells us, that we're in the most likely period of winter to receive a larger snowstorm. In the Boston area the most snowfall we receive in a winter season usually comes at the end of January through the middle of February.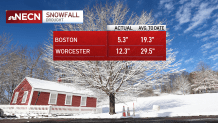 We are also in the coldest point of the year, with average daytime highs in the middle 30s. If we look back in weather history to the top five biggest snowstorms that Boston has ever seen, we find four of those events occurred between January 25 and February 18. The largest such snowfall occurred in 2003, between February 17 and 18, with 27.6" of snowfall recorded at Logan.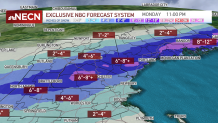 We wouldn't need a storm that big to close our snowfall deficit. In fact, a storm that produces 15" of snow would do the trick, and that kind of storm occurs in about a third of all Boston winters. So, what does the First Alert Team think about our prospects for snow over the next few weeks?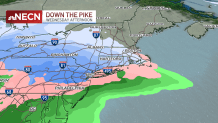 We finally have some colder air in place as we round out the month of January and start off February. The pattern has been very active, with a new storm moving through every 3 to 4 days. It is likely with these storms slowly tracking farther East that one of them produces an all snow event for the coast. What has been working against us all winter has been the La Nina pattern. This favors milder air across the East, and storms that track over the Great Lakes, commonly referred to as "cutters" because of their inland track. These storm tracks draw upon warmer air off the Atlantic, and either start as rain, or change to rain as a result.
There are subtle signs that the La Nina pattern is relaxing, allowing storms to track farther East. A final note on climatology and snowfall, when a season starts off so slowly like this one has for snowfall. It is very likely that the season ends with below normal snowfall.