Seasonable cold settles in for the weekend, along with it comes the chance for some rain and snow.
Saturday starts with a few light rain, or snow showers near the coast during the morning hours. Temperatures will be close to freezing, so it is possible a few spots get slick. By the afternoon skies are cloudy, and all spots are into the middle and upper 30's.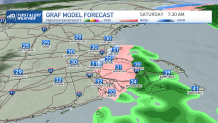 Saturday Night is cloudy, but the Cape and Islands could see some light snow or mix develop. Lows around 30.
Sunday starts off dry, but snow will develop near the coastline.
Again, the Cape and Islands have best chance of seeing snow, but by the evening snowfall may extend as far West as I-495.
Monday will start with light to moderate snowfall East of I-495, snow will end by midday. Highs in the upper 30's. Total accumulations as much as 1-3" on the Cape, and South Shore. Tuesday and Wednesday are milder with sunshine returning, highs in the middle and upper 40's.