It was a quintessential winter morning in New England with snow-covered grounds, chilly temperatures and a cloud/sun battle on Sunday.
Clouds won and they remain through this evening keeping us with a chance of more scattered snow showers this afternoon exiting this evening.
While not everyone gets to enjoy today's flurries, there's a more widespread storm bringing accumulating amounts for us all.
While Monday starts off sunny, clouds will keep growing through the late afternoon and watch for the first snow showers in the Berkshires and Litchfield Hills.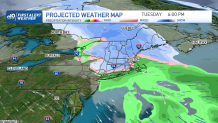 These snow showers will continue to expand eastward bringing a slick commute for Tuesday morning across much of New England with the exception of the far northern country near the Canadian border.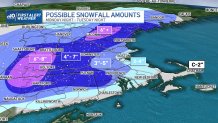 The rest of us will see accumulating snowfall amounts and will vary depending on elevation but we may see from 2-4 inches in Boston, a coating to 2" in Cape cod and southeast with Worcester Hills and western MA looking at higher amounts that may add up to more than 7".