With the mild temps behind us, we'll resume with our "winter-like" temps this weekend. Which is to say that our highs will be a solid 5-10 degrees above normal. Today's chill is minimal, but the wind will still be around (albeit less than yesterday), making for a wind chill in the 30s. Full sun helps, however. We're seeing blue skies from start to finish.
Temp get a little boost for tomorrow as our winds return out of the south. Clouds will creep in late in the day as a storm gathers far to the south. This storm could give us a shot as some showers across southeast Mass on Monday, but it will be out of reach for anything substantial. Winds will kick up on the Cape and the Islands, however. Some gusts could hit 30 mph from Wellfleet to Nantucket as this large storm heads to Nova Scotia.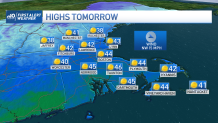 Our weather then settles down and eventually warms up, again. What's heading our way is an extended warmup, which starts on Wednesday and finishes on Friday. The real spike hits both Thursday and Friday, and not only are records in jeopardy (60 & 61), but the possibility of hitting 70 is very real. Showers arrive late Thursday and culminate in downpours by Friday morning.
Have a great weekend.