While we started our Sunday with fog and rain, it's been drying out through much of the area keeping the cloudy skies and only a few spotty showers sprinkles here and there. There's no significant impact rain through the evening.
Temperatures reach the 50s along the coast and rise to the 60s inland .
Sunday night, fog and drizzle lead us to Marathon Monday in which we wake up to cloudy skies, patchy fog, a few sprinkles and temperatures near 50°.
Showers start off Monday out in the west into parts of the Berkshires but they slowly move into eastern Massachusetts by the late morning and into the afternoon.
These showers will spread in coverage and last through the early evening on Monday. The best chance for some downpours and thunder will be out west.
Highs Monday will reach the upper 50s east to lower 60s inland. The winds will increase through the day out of the east and begin to switch out of the southeast by the second half of the afternoon.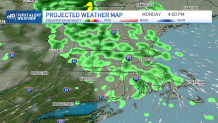 The sweeping low that pushes in Monday into Tuesday will keep spinning in showers into western and northern New England. So the more widespread rain the afternoon Monday will begin to push north keeping rain for northern New England Tuesday into Wednesday. Central and southern New England will keep drier conditions but gusty west winds pushing 20-30 mph.
Wednesday brings cooler air with highs in the upper 50s south, along with partly cloudy skies. Temperatures rebound to the lower 60s on the second half of next week in Boston… near the 70s inland.