We have our eyes on the weekend for another storm, but several pleasant days are ahead before that.
On Tuesday, skies remain mostly cloudy, and a stray flurry can't be ruled out. It will be a colder day overall, with highs in the middle 30s. Wednesday is mostly cloudy and milder. Highs should be in the middle 40s.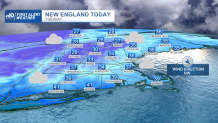 On Thursday, an area of low pressure will be well out to sea, but could send a few showers back towards the Cape and Islands. Another milder day, with highs in the middle 40s.
Friday is beautiful, skies are mostly sunny, with highs in the middle 40s. A winter storm is possible for the weekend, but the certainty of the track still needs to be ironed out.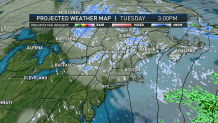 As of now, snow or a mix arrives later Saturday evening, and will change to rain along the coastline, then possibly back to snow for Sunday. The First Alert team will monitor this system, and provide the latest updates as they become available. High numbers for the weekend, should be either side of 40 degrees.