Tenacious low pressure in the upper atmosphere has clearly overstayed its welcome. Daily showers may have kept us dodging raindrop and bundling up for afternoon and evening sports venues, but they have also kept the green up going AND held back the pollen for the last few days. We'll have another day of the same ol' same ol' before we start to see some improvement in Friday's forecast (albeit a marginal gain of sunshine).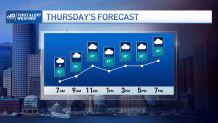 Showers dart in and out in the early part of the day, then we'll have a lowering chance of showers in the afternoon and evening. With winds from the northeast, our fate is sealed in the upper 40s to low 50s. Sun will be in splashes, not hourly doses. We'll diminish the shower threat Friday, then head into the new pattern for the weekend.
This is essentially a migration of the upper level weather features, rather than a complete flip of the pattern. We essentially mosey into drier, warmer air under the same block in the atmosphere. This is an important point, because instead of surging right to summertime temps in the 80s, we nudge up into the upper 60s to low 70s.
Next week, some of the air above us will cool, so although the initial push will be to the aforementioned temps, we'll see a slump back to the low/mid 60s by Tuesday and Wednesday.
Enjoy the day, and make plans for the sunny weekend!