It was a record-setting afternoon on Friday and while now we track cooler temperatures across New England, we're grateful we're not close to the subzero wind chills we had a week ago. It's been a wild ride, cold snaps followed by record highs and now looking into another bumpy road in the 10-day forecast.
Normal highs should sit in the 20s and 30s across the region by this time of the year, but our 66 degrees Friday in Plymouth, Massachusetts, sure showed how crazy February can be.
There's a Spanish saying that states "Febrero loco, Marzo otro poco" meaning February is crazy, but March a little more."
Winter isn't done yet in New England, we've seen it snow plenty by the end of the season before. And while the 30s seem to only be peeking in next Saturday, the end of February is trending for another 24-hour cold snap.
Meanwhile, in the short-term forecast, our weekend is pretty decent by February standards. Highs Saturday afternoon are in the 40s with wind chills in the upper 30s. Sunny skies remain through sunset.
Sunday welcomes more clouds with highs climbing warmer into the 50s. The coastal low approaching the south coast will bring showers overnight Sunday into Monday towards Buzzards Bay to Cape Cod/Islands and into southeastern Mass.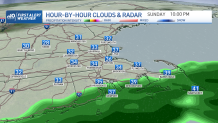 Other than that, cloudy skies remain through the early afternoon until they begin to depart Monday evening. A quick cold front will push through New England Tuesday morning which may produce snow showers from Vermont to New Hampshire and Maine. This is the window of opportunity for Mass. to also see some snow showers early before drier air takes over with a high pressure system stalling over by midday and into the early afternoon Tuesday.
The second half of the week will see another round of possibly record setting highs reaching the 60s, a widespread low will also bring wet weather across the 6 states. Next Saturday features highs dipping to the 30s and quickly rebounding to the 40s by Sunday.