We're still on a roll with the summer – er, spring – heat. Friday's temperatures will fire up right out of the gate, then get smacked back to reality with a penetrating sea breeze in the afternoon.
It's a horse race over whether Boston peaks in the low or upper 70s before the sea breeze kicks in on Friday. We'll leap from the morning "lows" in the 60s right into the 70s before the east wind spreads in the cooler air. It takes longer to arrive through Metrowest, the Merrimack Valley and Greater Worcester. It's here that the 80s will be back in play during the afternoon. Worcester's record of 79 degrees is very vulnerable, and it should fall relatively quickly as we aim for a high near 86 to 87 degrees in the afternoon.
The cooler winds will linger into the weekend as well. There will be limited sun on Saturday with a chance at showers late into the day and evening. Easterly winds will keep us only near 60 degrees at the coast, while other towns and cities far inland sneak up to 70 degrees. Everyone is much cooler for Sunday, with a few showers dotting the landscape from time to time.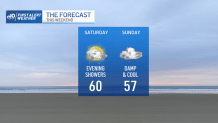 This is much needed rain, but the timing isn't ideal. More wet weather will come to us on Monday, with the bulk of it falling in the afternoon. Highs both days will hover in the upper 50s to near 60 degrees. Thankfully, the marathon isn't entirely awash in water, and the winds aren't much of factor: light southeast winds of 8 to 14 mph.
Enjoy the weekend!