A beautiful Memorial Day Weekend is ahead!
Keep in mind that if you're heading to the beaches, it will be much cooler down by the water, and Friday is a perfect example. Under sunny skies, highs away from the water are near 70 degrees for Friday. However, right at the shoreline, highs will be closer to 60 degrees.
Sunshine continues to be in the forecast for Saturday, as highs reach the middle and upper 70s. A southwest wind on Sunday means even the beaches warm up. Under sunny skies most spots reach the lower 80s.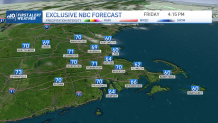 The sea breeze returns for Memorial Day Monday, as highs top out in the 70s inland, and cooler 60s again by the shoreline. Sunny and pleasant for Tuesday, with highs in the 60s on the coastline and 70s away from the water.
Wednesday is mostly sunny, and much warmer, with highs in the lower 80s.
We're expecting a big jump in temperature for Thursday, with highs in the middle and upper 80s. Spots well inland could make a run for 90, under a mostly sunny sky. PM pop up storm chances enter the forecast into next weekend, as more seasonable temperatures return.