A red flag warning is in effect for most of southern and central New England through Wednesday evening. These warnings are issued when the potential for brush and forest fires is high, but what are the specifics of such a warning, and how does it affect you personally?
The National Weather Service criteria for issuing the warning states that: "relative humidity must be 15% or lower, combined with winds frequently gusting to over 25 mph."
The warnings are issued in the Spring and Fall for fire seasons between February 15 and April 30, as well as October 1 through December 15. Brush fires start and spread easily in dry environments. Since April 1 we haven't seen substantial rain across the Bay and Granite States.
Another factor that makes the soil and vegetation particularly dry this spring was the lack of snowpack throughout the winter. Snow melt slowly adds moisture to the soil, keeping it wetter longer. Without snow melt, single day rain events can evaporate quickly from the soil.
As meteorologists we look at the dewpoint to gauge how dry the air is. As an example: a temperature of 70, with a dewpoint of 65 would end up being a very humid day. Currently, we have several 70-degree days in the forecast, but dewpoint numbers will be in the 20s. That means VERY DRY conditions.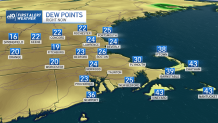 The best approach to avoiding brush fires during red flag warnings is to avoid using an open flame outdoors. If you're a smoker, dispose of cigarettes or cigars properly. If you plan on doing outdoor grilling, or perhaps a firepit during this time, take extreme care to prevent any embers from escaping to the outside environment.
Wildfires are very destructive and can move quickly. If you see smoke during the next few days, report it to your local Police Department.
Our next chance for rain is not until Sunday, but the greatest risk for wildfires will reduce by the end of the week, as a cooler northeast wind takes over into the upcoming weekend.