We had snow reports from 2 to 6 inches of snow overnight. Mostly in Vermont, with 6 inches, and 5 inches in New Hampshire and Maine.
A second round of freezing rain will roll through Thursday night. Untreated roads remain slick, but little snow will push across northern New England in higher elevations closer to Canada. Freezing rain and sleet will develop in the foothills and southern New England. Light icing is still a concern for much of southern Vermont, New Hampshire and northern Massachusetts that will march through in the late evening and into Thursday night. A quarter of an inch of ice may accumulate in these areas.
Colder Temperatures Coming to New England
Highs on Thursday remain in the lower 30s through the afternoon, and during the night we will drop to the 20s. Friday, though, we will plunge to the teens and single digits by the evening hours. A cold front will push south and this will bring gusts up to 40 mph. Temperatures will feel much colder Friday night into Saturday morning with subzero wind chills ranging from -2 degrees to -15 degrees in far northern New Hampshire. Berlin, New Hampshire, for example, will see temperatures dropping 14 degrees below 0 in the thermometer, but will feel about 10-15 degrees colder early Saturday.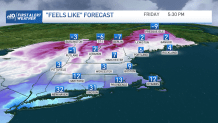 Isolated Snow Shower Possible This Weekend
Friday will feature variable skies with colder temperatures. Saturday will be the coldest of the weekend days and the chance for isolated snow will pop up briefly Saturday and a higher chance for scattered snow showers Sunday night north of the Mass. Pike.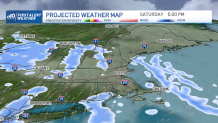 Tracking Another Winter Storm
Our next concern would be a widespread low that may produce several inches of plowable snow in much of New England on the first half of next week. Monday into Tuesday seems to position us under the highest amounts. We'll keep watching this closely.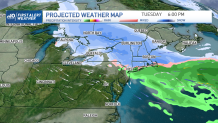 Wintry Weather Impacts Communities Across U.S.
Meanwhile, a national view: more than 10 inches of snow fell in Portland, Oregon, making this the second highest snowfall amount received in a day on record for them. Las Vegas had snow and graupel along with 50 mph wind gusts. More snow will impact the San Bernardino mountains in California with snowfall amounts adding up to 5 feet along the highest peaks in the California ranges.
Montana and North Dakota will see wind chills dropping 30-40 degrees below 0.
Meanwhile, Orlando, Florida, is watching for the warmest February temperatures as highs reach 90 degrees.
It's been a crazy winter for much of the country. Stay safe and make the best of today.