The First Alert weather team is tracking a winter storm as it nears New England. Light snow has started falling in Connecticut and Worcester County, Massachusetts.
This storm has a wingspan that stretches 1,000 miles from Minnesota, Michigan and into New England.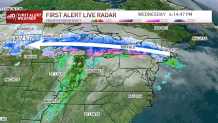 The atmospheric setup is very turbulent with Arctic Air to the north but record-breaking warmth to the south. Because of this clash of air masses, there will be varying modes of precipitation across the region. First Alert Meteorologist Tevin Wooten explains, how freezing rain, sleet, ice, and snow form.
The predominant type of precipitation through areas north of the Merrimack Valley and I-90 will be snow. Along the Mass Pike and South into Norfolk County, there will be a wintry mix of snow and sleet. Across the south coast, temperatures will be above freezing for much of the event, and mostly rain is expected with trace amounts of snow.
As the system is moving in, an initial push of snow showers are set to start around 8 p.m. with things picking up around 10 p.m.
SOUTH SHORE, CAPE & ISLANDS:
A few wet flakes mix in with mostly rain showers starting after 7 p.m. Throughout much of the night and morning, there will be several periods of rain showers and an isolated thunderstorm risk. Rainfall amounts are between a quarter and half an inch between Providence, Martha's Vineyard and Cape Cod.
BOSTON & METRO WEST
This will be one of the more difficult forecast areas. Several locations along the Mass Pike will vary in mode of precipitation. We anticipate a quick burst of rain to wet-snow with larger flakes for roughly three hours between 8 p.m. and midnight. By early Thursday, hours of sleet will follow. Temperatures begin to drop in the afternoon hours, so at that point freezing rain and freezing drizzle become of concern.
NORTHERN MASS & MERRIMACK VALLEY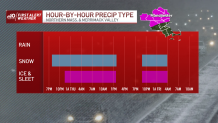 With mostly sub-freezing temperatures, this will likely be the region that sees accumulating show showers. Most of the snow starts before midnight and carries through the morning drive. Along the state line, we anticipate 2-4" of snow. There will be a quick cut to higher totals between 4" and 8" as heavier, steadier snow settles in through Belknap county.
Commute with caution throughout the Thursday morning drive. As this first storm leaves Thursday afternoon, a second system impacts late Thursday and throughout Friday morning. It should be a weaker and smaller-scale wave.