The final act of this major coast-to-coast winter storm will play out across New England Saturday.
We'll continue to see mix of sleet, rain and snow through the morning. As low pressure sweeps off Nantucket later on, and colder air is drawn into the region from the north, we'll see the mix and rain slowly transition to all snow from mid-morning through the early afternoon.
Cold is relative, however, and the drop won't be significant enough to create glaze on the roads or heavy snow accumulation. Nonetheless, travel will be slippery – but not impossible – across the area today.
Winds have increased through the night, with gusts approaching (and surpassing) 40 mph along the coast. Combined with a small accumulation of wet, heavy snow, there might be some power outages. Elsewhere, the winds won't be as strong, but where the snow does pile up to near 6 inches, there might be some isolated outages just from the sheer weight of the snow.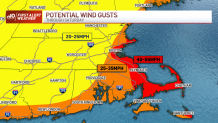 As the storm continues to pull away, the snow will taper slowly from west/northwest to southeast later this afternoon and evening. Storms of this nature are reluctant to give up, and this one will pester us with flakes until evening…even though the storm center is far from New England.
Sunday sees the Sun return along with some melting. Highs reach to the low 40s. The pattern is less active next week, but we're watching another storm late into next week/weekend.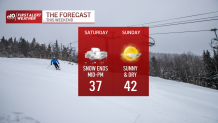 Be safe and enjoy your weekend!