Wintry weather isn't finished with us just yet. More weak weather systems will ripple through the jet stream over the weekend. The end result will be clouds —lots of them — and a few flurries or snow showers.
Our glaring concern for the short term is the deepening cold. Temps will only make it into the low 30s Friday– aided and abetted by the sun – before we see them stumble later in the afternoon and then crash later Friday night. Winds are howling too. Cold gusts will hit 30-40 mph at times, with wind chills falling through the single digits.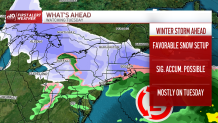 Air temps will fall there too by morning, with a few spots hovering near 0 in central Massachusetts and southern New Hampshire. The recovery on Saturday isn't all that spectacular. Highs only make it back to the mid-20s. Sunday pokes into the upper 30s, but here too there might be a few snow showers at times in the afternoon.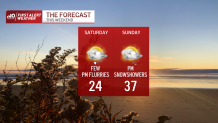 We'll get the calm (Monday) AND the storm (Tuesday). Right now the guidance is painting a snowy pic for all of southern New England. Right now, the chances of at least 6 inches of snow are between 60 and 70%, solid odds this far out in time. The storm appears to start late Monday night and carry through Tuesday (and perhaps Tuesday night). We'll be able to track it all through the weekend, as it makes its mark as an historic rain/snow maker for Southern California. Stay with us for updates!