Our incoming storm system late Thursday into Friday is one that tests the mettle of meteorologists, with a sharp rain/snow line that makes the stakes high.
Some school districts have announced closings and delays for Friday. See the list here.
Our First Alert team expects a 25 to 30 mile north-south span to separate snow amounts from half a foot to nothing at all early Friday morning. However, the areas with nothing in the morning likely will add a bit of snow over the course of the day Friday.
When Will the Snow Start in New England?
The setup is not one that screams snow for central or southern New England, where Thursday morning low temperatures above-freezing for most rebound even higher, well into the 40s with road pavement temperatures around 50 degrees by afternoon thanks to limited morning sun and an absence of deep cold air anywhere in New England.
Although a northeast breeze does develop for a time overnight Thursday night, most of the cooling expected in the atmosphere that will aid in transitioning rain to snow for some comes from the dry nature of the air, as dry air cools when saturated with moisture, like falling rain. The result will be a rain that develops Thursday afternoon from southwest to northeast and slowly transitions to snow Thursday evening and overnight, first in the hilly terrain, then gradually from northwest to southeast, as far south as northern Massachusetts.
What Areas Should Expect Rain?
Further south – near and south of the Massachusetts Turnpike– precipitation is likely to stay as rain overnight Thursday night into early Friday morning, waiting for a colder north and northwest wind to change leftover pockets of rain to snow throughout southern New England Friday, adding a fresh one to two inches of snow on some spots that would still be snow-free up until then. Meanwhile, northern New England is deeper into the dry air, meaning it will cool more readily for widespread snow with snow lingering through Friday morning and snow showers Friday afternoon with half a foot to a foot of accumulation.
Although the weather is expected to quiet Saturday with more clouds than sun and cool high temperatures in the 30s and 20s north, another storm will be organizing along the Louisiana Gulf Coast, ready to pull northeast. Chances are good this storm will carry enough warmth that southern New England will see mostly rain when the storm arrives Sunday evening through night, but northern New England's ski and snowmobile country is likely to see accumulating snow.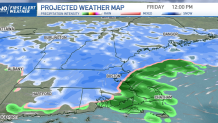 Are More Storms on the Way to New England?
The worst impact of the storm will be overnight Sunday night, though the morning commute Monday very well may be impacted by rain and snow as the storm starts its exit. Couple this with another storm at midweek next week – perhaps a slightly colder storm with a rain/snow line farther south into New England – and our exclusive NBC Forecast System is cranking out up to two FEET of snow in ski and snowmobile areas of the North Country over the next 10-days!
This all comes in a weather pattern that really hasn't shifted toward cold, but rather, marginal for rain or snow…the colder weather pattern we've been watching is still in the forecast, and now shows up on the 10-day, starting at the end of next week.