We're in the home stretch of our seemly routine cloudy, dreary, gloomy, grey, wet — you get the picture.
The final day is poised to bring the most excitement with rain changing into snow throughout the day. What will limit the forecast snowfall potential is the pace at which the colder air arrives. That said, most forecast models are in agreement with rain, transitioning to a wet snow along the Massachusetts Turnpike.
Generally, the day starts cloudy with an isolated shower during the pre-dawn hours. Snow begins across the Monadnock region of New Hampshire and extends down to south western Massachusetts. Rain arrives along the Mass. Pike just after 9 a.m. and pushes east into Boston.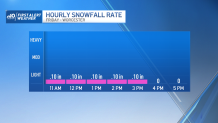 By midday, cold air begins to submerge from northern New England southward in the mid-to-lower levels of the atmosphere, producing snow across the North Shore and central Worcester county. This will likely bring a wet snow throughout the region, as surface temperatures are slightly above freezing.
How much snow will we get in Massachusetts?
Because the onset of the event starts as rain, it will make timing out road treatment difficult. This could lead to a combination of slushy road conditions. That said, the window for a changeover to snow arrives around 2 p.m. and continues through the early evening commute. Along and due north of the Mass Pike, to central Worcester County totals we'll likely find totals up to 2 inches, with isolated spots of 3 to 4 inches for higher elevations of Worcester County.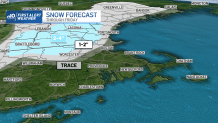 Through Windham County, Vermont, through Sullivan County and Rockingham Counties in New Hampshire, we expect between 2 to 4 inches.
Trace amounts of snow, mixed with rain will likely stretch from MetroWest to the North Shore. After Friday's disturbance, more sunshine filters in throughout Saturday, with mostly sunny skies expected Sunday. Temperatures are slightly warmer than average through the extended outlook. High pressure overheard will keep much of next week quiet, though a system may pass relatively close (and south) of New England by midweek, with another system late next week.