It was a messy night, but we're in a lull early Friday morning as we wait for part two to kick in for the rest of the day.
School Closings in Massachusetts, New Hampshire
Hundreds of schools across New England have either closed or delayed school on Friday due to the snowstorm.
Here's an updated look at the latest closures.
Crashes Reported on New England Roadways
Multiple crashes have already been reported due to tough road conditions north of Boston and into southern New Hampshire as snow continues to fall on Friday morning.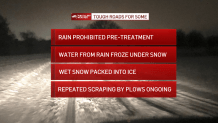 There are crashes on Interstate 495 in Methuen and on Interstate 95 in Waltham, as well as numerous crashes on southern New Hampshire highways.
Power Outages in New England
There were thousands of people without power in New England on Friday morning, including over 1,000 in Massachusetts, over 6,000 in New Hampshire, and hundreds more in Vermont. Other New England states were only seeing minor issues.
Here's a closer look at power outages across the region.
Snowfall Totals Across the Region
As wintry weather continues into Friday, some areas of northern New England have already seen half a foot of snow.
Cumberland, Maine, for instance, has seen 6 inches so far, while Essex Junction, Vermont has seen 4 inches and Ashby, Massachusetts has seen 5.5 inches.
A look at early snowfall totals in communities across New England has been posted here.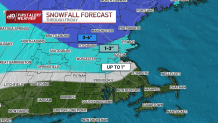 More Snow on the Way Friday
Friday's batch of (mostly) snow will coat the ground in many spots and add to what we received overnight for others. Temps have dropped in the wake of the first part of our storm system. Easterly winds are now north, drawing down the chill from northern New England. Temps will continue to fall through the morning and settle in the low 30s for the remainder of the day.
A hard freeze expected Friday night as the cold solidifies. Saturday is quiet, chilly and bright. Then we wait for the next storm Sunday night.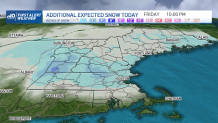 Two More Chances of Snow
Once again, we're in the crosshairs of the rain AND snow. While the track favors wet weather east of Worcester and snow west, there is plenty of room for fine tuning in the days ahead. There will be plenty of cold before the storm, so this will have to be watched carefully. And that's not all. Another storm is coming up the coast on Wednesday. This one is trending a bit colder, and could mean snow all the way to the coast. Either way you slice it, the pattern is VERY active and the potential for a deepening snowpack across parts of New England is heightened.
Drive safe and enjoy the weekend.