We're gearing up for two storms in the coming days. While the first one is all bark, the second one could be all bite.
First up, the pleasant day coming Friday. Sun will quickly fade behind increasing clouds. These clouds are with our first storm that makes a swing at us as early as Friday night.
Snow will break out close to midnight in western New England, and inch east through the night. The storm center will hit a major roadblock in the atmosphere, preventing it from making much progress into eastern Massachusetts on Saturday. It's for that reason that we see very little in the way of accumulation from Worcester east from this storm.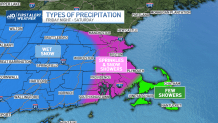 Showers of rain and wet snow will be more of a nuisance than anything. Along the coast, winds will gust to 40 plus mph at times through the day.
We'll get our break on Sunday (with plenty of sun and temps in the 40s), then the next storm rolls in Monday night.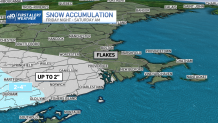 Signs are pointing to a very large nor'easter sitting somewhere off the New England coast. These are classic setups for heavy snow in winter, but with limited cold resources, it seems the heaviest snow (in terms of depth AND weight) will hit central and western Massachusetts.
These storms are tricky in all senses, however, and it wouldn't take much for the snow to rush to the coast as the storm inches away on Tuesday afternoon. Our concerns revolve around power outages with the weight of the snow and the intense winds along the coast, where gusts could top 50 or even 60 mph.
This storm is everything you wanted — in December or January. Tough to see it at the tail end of winter, but so it goes around here. Most of the snow should come to an end by Tuesday night, but if there's any hesitation, we could drag this out into Wednesday morning.
Lots to hammer out in the days to come. We'll be on it every step of the way this weekend.
Enjoy yours!