Wet snow starts out the day on Tuesday for some areas in Massachusetts, but little, if any, accumulation is expected because temperatures will be in the middle 30s.
By Tuesday evening and overnight, another round of snow or mixed rain and snow moves through.
Worcester Hills could see a coating to an inch from this round of snowfall, but most spots see no accumulation. Highs Tuesday are in the lower 40s.
On Wednesday, skies become partly cloudy with highs in the middle 40s. Clouds return for Wednesday evening, and snow or sleet will overspread the area.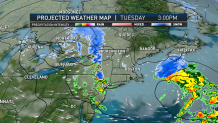 Wintry Weather on the Way
By early Thursday morning, snow will transition to freezing rain and sleet from south to north. We can expect a tough commute for Thursday morning as snow will likely be falling across most of Essex County, and sleet or freezing rain will be falling elsewhere.
Most of Plymouth, Barnstable, Dukes, Nantucket and southern Bristol Counties will change to plain rain for the day on Thursday. By Friday morning, another impulse will move in with more wintry mix possible. Temperatures hold very close to freezing near the New Hampshire border, and sleet will likely be falling. Some clearing is possible later on Friday, with highs in the middle 30s, but temperatures drop quickly throughout the late afternoon.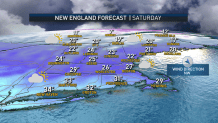 Saturday is very cold, partly sunny and windy. Highs in the middle 20's and lows in the single digits. Another chance of snow or mix is possible late Sunday into Monday, with a more active pattern setting up.