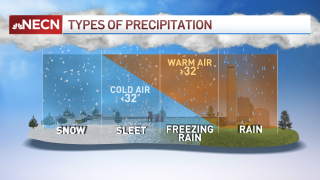 When a winter storm is approaching our area the focus of these storms is usually snowfall, but there are several other types of winter weather to look out for in New England.
Later this evening, and throughout much of Thursday morning, rain will fall across the region. For Boston, and the immediate suburbs there will be no impacts from the rain other than wet roads because temperatures will be above freezing.
However, most of Southern New Hampshire, and spots in Massachusetts just to the North and West of Boston, rain will fall into air that is right around the freezing mark. We call this freezing rain, and it occurs when the ground is below freezing, but areas just above the surface are well above the freezing mark. With the threat of freezing rain later today and overnight, a Winter Weather Advisory has been issued for areas with elevation.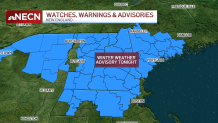 Freezing Rain
Freezing rain is THE MOST hazardous winter weather for drivers, as it causes a layer of ice to form on roadways. Oftentimes, colder air gets trapped in valleys allowing for the rain to fall and freeze on contact. Meanwhile, areas with higher elevation are actually warmer, and get plain rain. This is the exact opposite of most winter storms, where the mountains usually end up with more snowfall.
Sleet
Another form of wintry weather that is often confused with hail, is sleet. Unlike hail, which forms in summer thunderstorms, sleet forms only in colder months. Sleet starts as a snowflake, the snowflake falls into a layer of above-freezing air, and melts slightly. Then, it falls to the ground in a layer of below-freezing air, where it freezes back up into a solid ball of ice. Sleet is usually smaller than hail, and can cause hazardous conditions on the road.
Snow
Getting back to snow, that falls when the air is below freezing the entire way, from the cloud down to the ground. To that point, rain falls when the opposite situation occurs. Above freezing temperatures from the cloud straight down to the ground. If you live in an area with a Winter Weather Advisory, be very careful walking on sidewalks, and your driveway this evening. A glaze of ice is likely to form on all colder surfaces overnight. Driving should be avoided, unless absolutely necessary.