For some, the warmth never came Thursday. Elsewhere, away from the coast, it was a pretty mild day. So to say the day is "cooler" would be a misstatement; we'll just call it "windy" and "cool."
Gusts should be on the order of 25 to 35 mph Friday, as colder air moves in at all levels of the atmosphere. Those winds will make it feel like 40s instead of mid-50s, but thankfully, they'll only last for a day. Along with low humidity, the winds will heighten the risk for brush fire danger across southern New England. As a result, controlled burns may be banned in some towns.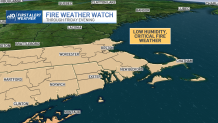 We'll deepen the chill Saturday (by a few degrees), then see it bounce back Easter Sunday under full sun. Speaking of, Friday starts a streak of sunny days that lasts through the 10-day forecast, so by the time the summer warmth rolls around next week, we may be aching for a drink of water.
There are only a few times in the year where we have highly confident patterns that produce highly confident forecasts. Next week is one of them. And it just so happens that it revolves around a major multi-day warmup. As a massive high pressure system builds in the upper atmosphere along the Eastern Seaboard, sun will combine with mild air to propel us to the 70s and 80s late next week.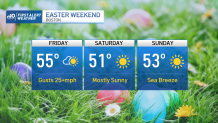 We'll be in record territory by Friday, with a cooldown anticipated (thankfully) by next weekend ahead of the marathon. It may seem premature to talk about this many days in advance, but this isn't like we're holding our breath to see if a nor'easter will hit. These overwhelmingly warm setups are a lot easier to anticipate than that.
Have a great holiday weekend!