A radical switch from fire weather to frost is taking the top headlines Wednesday across New England. We see the strong northwest winds gusting over 35 mph in the afternoon over land that's been experiencing a prolonged dry period.
The combination with low humidity, strong winds and dry vegetation is not a good one. The Red Flag Warning indicates the explosive fire spread risk remains in effect through 8 p.m. Wednesday night. This comes after a cold front dropped our temperatures, allowing that same dry air to cool even faster at night.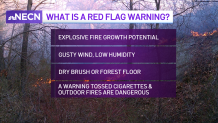 Temperatures will plunge into the 30s outside I-495, with 20s west of the Monadnock Region and north of the Merrimack Valley. These cold temperatures may allow frost formation wherever little moisture is found.
Dry afternoons will prevail through Friday along with slowly increasing temperatures. As a low pressure system will slowly advance through the eastern seaboard, we'll see its arrival to New England this weekend, allowing up to half an inch or an inch of rain to fall Saturday late morning into Saturday night.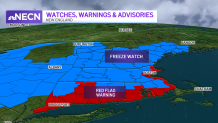 After that, our temperature trend next week seems to stay mostly above average inland. The chance of a sea breeze may keep Boston and the immediate coast on a slightly cooler side.