The warmup has already begun. Tuesday's high of 52 degrees in Boston anointed the return of the mild air. We're charging ahead to records at the end of the week.
While Wednesday starts gloomy and sprinkly, the afternoon will break out of the clouds and nudge the numbers up into the 50s again. We're not pushing things all that much because the south wind is a tempering factor in keeping the warmth from getting out of hand. As it blows off of the cold waters of Narragansett Bay and Buzzards Bay, communities near both bodies of water stay much cooler than locations in the Merrimack Valley. The difference is a high near 50 degrees in New Bedford and closer to 60 in Lawrence. Boston falls in between.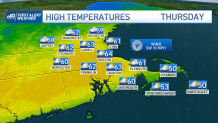 Showers hold back for much of the day Thursday, which allows our temperatures to soar. With a southwest wind, we shove the cooler readings to the Cape/Islands, and head for records elsewhere. The warmth culminates in another record day on Friday, before the cold front passes in the early/mid-afternoon. The tricky part of the forecast is in the first half of the day, when temps could spike to the upper 60s ahead of the front. It's been done many times before, and the guidance is often too slow to react to this burst of warm air. It could make the difference between seeing temps in the low 60s, if we stay in the clouds, to the upper 60s if the sun pokes out.
Colder air follows for a one-day visit on Saturday. All in all, the weekend looks bright and dry.