A weak disturbance and its associated cold front crossed New England Tuesday morning with light snow and rain – just enough to create a few slick spots on untreated surfaces.
The light rain and snow continues departing to the southeast where the cold front will stall and serve as the pathway for another storm Wednesday. Before that storm develops, though, New England finds breaks of sun between the clouds Tuesday afternoon with temperatures near normal for this time of the year in the 30s. The new, colder air is also drier by nature and will tend to clear the sky gradually into Tuesday evening and night for many, with temperatures dropping below zero in northern Maine Tuesday night, into the single digits for much of northern New England and teens to around 20 degrees south.
The next storm, organizing over the ocean water south of New England, will grow large enough in the predawn Wednesday to clip far southern Connecticut, Rhode Island and far southeast Massachusetts with a round of light snow and snow showers, dropping a fresh coating of snow that may make roads slick in spots by Wednesday morning's commute.
Like Tuesday, any snow showers will depart for emerging afternoon sun with chilly high temperatures either side of 30 degrees. Thursday brings fair and breezy weather as a push of milder air moves north into New England ahead of a strong approaching cold front that will open the door to a brief but intense shot of Canadian cold Friday and Saturday. As of Tuesday morning, the air set to move into New England is on the map in central and northern Canada, positioned over the west side of Hudson Bay where temperatures are some 30 to 40 degrees Fahrenheit below zero!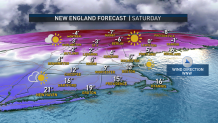 Friday's cold front initiates a northwest wind that will carry a chunk of this air – albeit moderated somewhat when it arrives – to New England. With the cold front crossing New England from northwest to southeast during the day Friday, snow showers and heavier squalls are expected in northern New England, aided in development by the mountainous terrain, and at least a few snow showers can't be ruled out farther south.
Temperatures Friday will likely stall in the 20s by day as the northwest wind increases, then plummet at night with the passage of a second cold front that may once again deliver some scattered northern snow showers but, moreover, will be responsible for a final installment of cold air that sends Friday overnight low temperatures below zero for most of New England.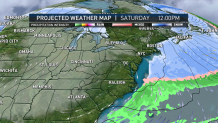 If Boston dips below zero as we're expecting, the city will reach that distinction for the first time since January of 2018. The combination of cold and wind will mean a dangerous and life-threatening wind chill for much of New England overnight Friday night into Saturday morning, and as the temperature rises to the teens south and around zero north on Saturday with a very slowly easing wind, the wind chill may not be life-threatening for most by day, but it certainly will be stinging.
Now is a great time to check fuel supplies for heating, car tire pressure and battery strength in advance of the arriving cold. The cold will be exceptionally quick to retreat Sunday and clouds will fill the sky as the clash of cold and incoming less cold air takes place in the sky above, eventually leading to a chance of some snow showers overnight Sunday night before a return to high temperatures in the 30s and 40s next week, in our exclusive First Alert 10-day forecast.