Feeling like winter is ending early this year? There's something to that - spring leaf out is already spreading northbound, from the Southern U.S.
Across the southern U.S., leaf out is pacing nearly three weeks earlier than normal (using climate averages from 1991 -2020) and nearly 11 days early in Charlotte, North Carolina, according to the latest reports from the National Phenology Network. Southern California and Arizona are "days to over a week late, while the coastal Northwest is days to weeks early," the NPN reports.
Along the Gulf Coast, spring blooms are nine days early in New Orleans, Louisiana.
It's not unheard of to have a leaf out this early, but it is a rarity. According to the NPN's spring leaf index the leaf out happens this early once every 40 years across Southern Arkansas, the Mississippi Delta and North Texas. Along the Carolina Coast, it's a bit more common, occurring early every one to four years.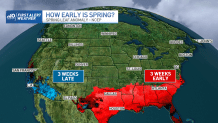 This cycle has been fed by a warming winter. Despite the brief cold spell that took place at the start of the month, winter temperatures are 10-20° above normal.
New Orleans and Memphis are both on pace to have their sixth warmest winter to date. January 2023 was the warmest to date for Massachusetts. On average, Boston's winter features 11 fewer freezing nights than compared to 50 years ago. This year, we've only had 43 days with overnight temperatures below freezing.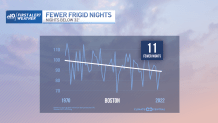 Climate change has been a contributing factor to earlier pollen seasons. Warmer winter and spring temperatures cause plants to produce pollen earlier, leading to earlier leaf out and blooms.
Local
In-depth news coverage of the Greater Boston Area.
While the leaf out in New England isn't quite as close, the signs are there that blooms will run ahead of schedule this year. Typically mid-May is when New England experiences first bloom, with leaf out beginning in mid-April.