New England starts the week with a January feeling of only slightly above-normal temperatures as morning snowflakes and raindrops that fell south of the Massachusetts Turnpike ship out to sea for increasing sunshine, regionwide.
A fresh breeze from the west-northwest will carry gradually cooler air into New England to gradually clear the sky Monday afternoon and that clear to partly cloudy sky Monday night will allow temperatures to drop into the 20s regionwide.
Tuesday brings fair and cool, seasonable weather for early January and while Wednesday brings increasing clouds, temperatures follow suit. The recent parade of storms into the West Coast, however, has been carrying warm air in from the Pacific Ocean and this mild air is slowly taking over more of the Lower 48 States. In fact, the coming days to weeks will continue a pattern in which the return to a "stable" or "normal" state – that is, one without influence from large storms directly nearby – will be a milder-than-normal state of affairs, meaning as soon as a northerly wind from Canada abates behind each departing storm, the deep cold air abates rather quickly, too.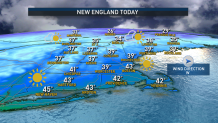 This is why, in the 10-day forecast, temperatures run rather considerably warmer-than-normal at times. As a piece of the Pacific storm energy arrives to the Mississippi River Valley at midweek, a new storm takes shape and strengthens while moving northeast into the eastern Great Lakes. The counter-clockwise flow of air around this storm center will usher a mild, southerly wind toward New England – at first, incoming mild air and moisture will collide with existing cold for mixed snow and rain showers overnight Wednesday night into Thursday morning, then while snow continues in northern New England Thursday, southern New England sees a transition to all raindrops as scattered showers, with the steadiest slug of rain likely to arrive Thursday night into Friday, concurrent with a meaningful push of warmth that will bring a gusty south wind on Friday, though that wind is unlikely to be damaging.
Whether a First Alert is required Friday will largely hinge upon timing of the rain with regard to the Friday morning commute, which will play a big role in just how impactful that rain ends up being. Although ski and snowmobile country does warm up enough for rain Friday, that rain comes after Thursday's push of 4 to 8 inches of northern mountain snow, and is followed by another 3 to 6 inches of snow Friday night through the weekend, with both rounds of snow at least easing the blow of rain sandwiched between.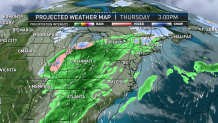 Although southern New England is unlikely to see much if any snow on the tail end of the system, some rain showers lingering Saturday may end as an inch or two of snow in the Berkshires.
While our First Alert Team currently expects Sunday to bring improvement, it's not impossible showers creep back into the forecast, with our in-house NBC Forecast System painting a 30% chance we'll need to alter the forecast to bring showers in. Either way, the 10-day forecast clearly illustrates a continuation of the "default mild" state of the atmosphere in New England next week.