Thursday again brings us a gusty northwest wind and temps in the low 40s. Wind chills will be around 30 through the day, with it feeling like the 20s up north. The wind does relax a touch, though, compared to the last few days.
Clouds will dominate most of the day, and a wave of a light wintry mix, mostly rain showers, will spin in from the northeast across northern New England and eastern Massachusetts in the evening. The temps Thursday night drop to below freezing before daybreak Friday, but any evening precipitation should end early enough that we dry off before any big freezing issues.
Friday is our best day of the week with early sunshine and highs in the mid 40s as we prepare for a system this weekend. The system on Saturday into Sunday will bring in some slushy snow, then a mix, gusty northeast winds and some rough surf.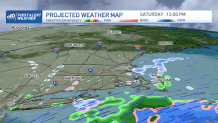 The low pressure system heading across the Great Lakes will pass just to our south Saturday and this means we are in the cold section of this storm. The wind will be gusty from the northeast 30 to 40 mph at the coast. And the waves heights will be slightly higher, but not expecting coastal flooding.
As the storm heads in Friday night, that is when we have the best chance for snow or accumulation in southern New England. The highest amounts will be in southwestern Connecticut overnight with 2 to 3 inches, around 1 inch outside of I-495 and in higher elevations, and scattered coatings around eastern Massachusetts. This melts and gets washed away with a mix to a few rain showers Saturday afternoon as temps reach the upper 30s.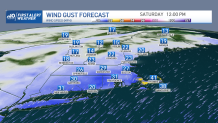 As we spring forward one hour on Saturday night/Sunday morning, we have a sunnier day Sunday with highs around 40. Then another storm system develops for Monday into Tuesday, bringing us a mix to rain and some snow depending on the timing (overnight vs. daytime), plus gusty winds.