Maine got lucky with the lottery Friday night but Massachusetts is winning in the snow forecast that mountains relish.
While it will be a wintry weekend for all of New England, the most snow is set to fall over the Cape and southeastern Massachusetts Sunday morning thanks to a coastal low developing in the Atlantic.
While the low pushes northeast Sunday evening, the chance of snow increases for all the eastern shoreline from Massachusetts through Maine.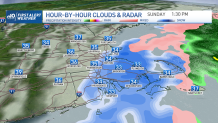 Accumulating snow is set to add up over 3 inches in some areas, including Plymouth County and the inner Cape. A dusting up to 2 inches may spread all the way through Worcester as the snow expands further inland late Sunday into Monday afternoon.
The wind will also play an important role in the south and east coast, the gusts may peak up to 50 mph late Saturday through early Monday. High surf will develop as a consequence along the east and south facing coasts.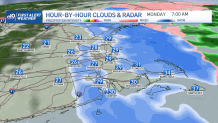 For those west of I-91, chances are slim for any snow on Sunday but that may increase a bit on Monday for a brief period. Regardless, the temperatures will remain wintry and the gusts of at least 20 mph at times will play a role with the wind chill.
Slick roads are expected Saturday evening north and west but that focuses southeast Sunday. Monday morning is a day to work from home for those allowed. The Massachusetts Department of Transportation issued an advisory about driving conditions through Monday.
The next chance for rain is Tuesday with a mild system out of the west and the mountains may see their next chance for snow. The best shot for a longer-lasting sun will be Wednesday, when highs will remain in the upper 40s and 50s with a few clouds around.
Wind will kick back in on Wednesday and another round of rain is set for the second half of the work week. Stay safe.