Monday starts with breezy conditions and by late morning, the sun is out, with temperatures quickly climbing to the middle 60s for daytime highs.
A few more clouds are possible points west in the afternoon, and a pop-up shower is possible well west over the Berkshires. Otherwise, the day ends up being the driest out of the next several.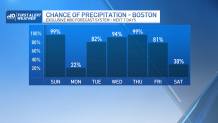 Tuesday starts mostly cloudy, and quickly becomes cloudy with on and off showers in the afternoon. Highs will be in the upper 50s.
Wednesday is cloudy and cool. Winds are easterly, so temperatures struggle to break the middle 50s. An area of drizzle or a passing shower is possible throughout the day.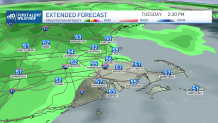 On Thursday, a steadier rain will develop, and temperatures will stay as cool as the upper 40s in many areas. The highest elevations of the Green and White Mountains will pick up some snowfall as a result of the cold.
Friday is mostly cloudy to start, with shower chances. Sun emerges in the afternoon, with highs in the middle 50's. Saturday is partly sunny, and finally dry. Highs near 60. Sunday is mostly sunny, and milder, highs in the upper 60's.