We're ringing in 2023 the way we left 2022: with more mild air.
Rain has departed, and the drier air will work in on the heels of a gusty northwest wind. The wind backs off tonight, but only slightly cooler air will dip in tomorrow. All looks bright and (somewhat) balmy for the Winter Classic at Fenway, but even tomorrow we're priming for another bout of rainy, warm weather.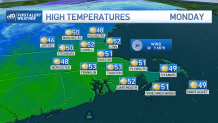 A cursory glance back at 2022 shows that while our rainfall was almost exactly at normal across Greater Worcester, Eastern Mass fared a lot worse. Despite the waves of autumn rain and downpours, we never really regained our footing after April and finished the year over a foot below normal in the precipitation department. That said, we've still got a few storms in the pipeline this week to gather more water.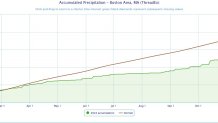 Rain should commence on Tuesday afternoon with the next event. It's not looking like a lot of water initially, but the tail end of the storm may have some surprises. Temps continue to warm through Tuesday night and Wednesday. Guidance has been solidly supporting low 60s for the last few days on Wednesday, and we see no reason to deviate from that idea. This mild air was festering the Desert Southwest and Southern Plains, so there's plenty of backing for mild temps. Record to beat is 70, but we won't come close with a projected high of 62 in Boston.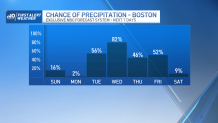 At the close of the storm, colder air will be working in. While it may be too little too late to switch us over to significant snow, we may finish with some wet snowflakes on Thursday. There's another storm trying to brew offshore on Friday. If it comes any closer to the coast, there might be another shot of snow for us. Threat is low at this point, but it bears close scrutiny.
Happy New Year! Be safe and enjoy the holiday.