After record cold, milder air makes a quick return on Sunday. Skies will be mostly cloudy and high temperatures will be well into the middle 40's.
Sunday Night is mostly cloudy and not as cold. Lows in the lower and middle 30's.
On Monday a few more clouds for the Cape and Islands as a rain system stays off shore, but is close to throwing a few showers onshore South and East. Highs in the upper 40's, with a mix of sun and clouds.
Tuesday is mostly cloudy, some rain showers possible in the evening. Highs in the lower 40's.
Wednesday starts out partly cloudy, then, becoming mostly sunny and mild. Highs near 50.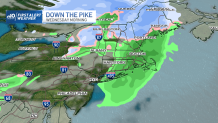 Thursday, calls for partly cloudy skies, showers possible later in the day. Highs in the middle and upper 40's.
Friday is cloudy, with rain arriving later in the day. Highs in the upper 40's. Expect rain for Saturday, with temperatures in the middle 40's. A trend of temperatures generally above average continues into next week.