Mainly dry conditions for Tuesday, but some colder air aloft may set off a stray sprinkle or even some flurries in the mountains.
Winds will gust to 30 mph into the afternoon, making it feel colder. Highs on Tuesday will generally be in the upper 50s, with colder 40s well north and west.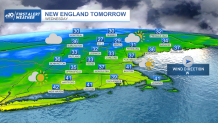 Wednesday has a similar feel to Tuesday, as skies start mostly clear, but become partly cloudy in the afternoon. Breezy conditions make it feel cooler. Highs will be in the middle and upper 50s.
A warm front lifts north on Thursday, and a brief shower is possible in southern New England. Otherwise, Thursday will be partly to mostly sunny and milder, with highs in the middle and upper 60s.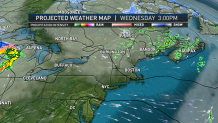 Things look mild for Friday, with partly sunny skies and highs in the middle and upper 60s. Interior spots could touch upon 70 degrees, but a northeast wind keeps coastal locations cooler.
Saturday is mostly cloudy, and cooler. Highs will be in the lower 60s. Rain arrives for Sunday with a stationary front, which will likely hang around for several days early next week. Highs are cooler, in the lower 60s and upper 50s.